Did You Buy Apple At $163? If So, Cramer Thinks You Are A 'Clown'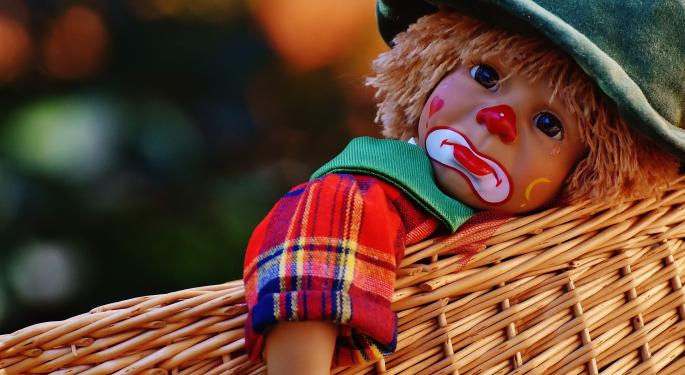 Did you buy shares of Apple Inc. (NASDAQ: AAPL) at $163 per share during the company's new product launch event on Tuesday? If so, you are a "clown," at least according to CNBC's Jim Cramer.
Apple's stock peaked near $164 per share when the company introduced its new flagship phone, the iPhone X, Cramer explained during his daily "Mad Money" show on Wednesday. Anyone who bought the stock at that exact momentum was likely working under three assumptions:
The iPhone X would be so fantastic that every investor would come running to buy Apple's stock for some time.
These new investors would be glad to buy the stock at a higher price.
These investors didn't know what they were doing.
Now that Apple's stock is trading below the $160 per share level, many investors who bought near Tuesday's peak are "at the mercy of everyone in the market," Cramer continued. These investors are also likely thinking they are "an idiot" but still able to justify their action by saying 'I'll just own Apple for the long haul."
Cramer has been recommending since at least early 2016 that people invest in Apple's stock and not trade it. Those who bought Apple's stock on Tuesday under the assumption that it could drop and they will add to their position at that point made the right move.
"Investing and trading require two very different mindsets," Cramer said. "When you invest, you're going in for the long haul. You don't want to buy all at once. Instead, you buy gradually, in stages on the way down."
Unfortunately for investors who bought their entire position at $163, well, they are "clowns" and made a costly mistake.
Related Links:
Analyst: Why The iPhone X Lived Up To Lofty Expectations
Posted-In: Apple Product Launch CNBCLong Ideas Events Top Stories Tech Media Trading Ideas Best of Benzinga
View Comments and Join the Discussion!