Domino's CEO Talks Self-Driving Delivery Cars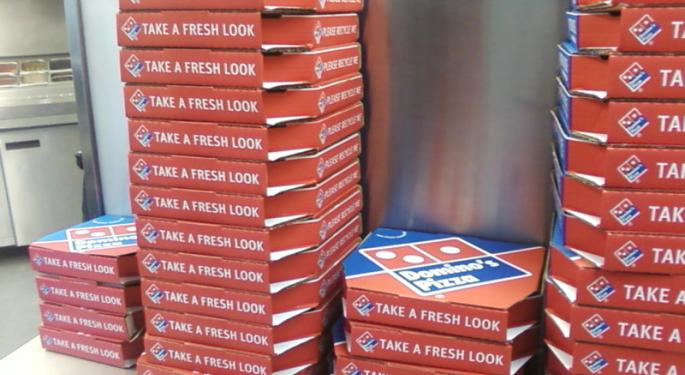 Self-driving cars represent the future of food delivery, at least according to Domino's Pizza, Inc. (NYSE: DPZ)'s president and CEO Patrick Doyle.
Domino's announced in August a project in which it will be testing delivering pizzas to consumers in a Ford Motor Company (NYSE: F) powered self-driving car. So far, the project is in a testing phase and each pizza delivery consisting of an autonomous car will be overseen by a safety engineer.
"Clearly self-driving vehicles are coming, it's something that we are looking at very seriously," Doyle explained during CNBC's "Squawk Box" segment on Friday. "We have been testing on tracks and now this is the first time that we are bringing it out onto the streets."
Domino's is still perfecting the "last 50 feet" of the delivery process, Doyle continued. Consumers will need to come out of their homes and interact with the car by inputting a code in the car's screen to accept their pizza.
By focusing on what improvements need to be made on the consumer interaction front, the pizza delivery restaurant is hoping it will be an early mover in the food delivery space, the executive said.
"There is clearly going to be change here," he also said. "We have to understand it and how we can leverage it to make it a great experience for our customers. This stuff is coming."
Many are concerned with the human impact of making use of a fleet of driverless cars. But the same fears were present when Domino's introduced online ordering and what impact it will have on employees who used to take orders on the phone. Nevertheless, Domino's employs "a lot more people" today than it did before digital ordering existed and the use of self-driving cars will similarly result in more employees — not less.
Related Links:
Looking For Exposure To The Restaurant Sector? Try McDonald's Instead Of Domino's
Domino's CEO Promises To Improve International Business, Says 'We Know How To Get This Done'
_________
Image Credit: By Apatzi (Own work) [CC BY-SA 3.0 (http://creativecommons.org/licenses/by-sa/3.0) or GFDL (http://www.gnu.org/copyleft/fdl.html)], via Wikimedia Commons
View Comments and Join the Discussion!
Posted-In: Autonomous Driving CNBCTravel Restaurants Top Stories Tech Media General Best of Benzinga