Amazon's 'HQ2' Will Turn A City Into An Instant 'Mini Silicon Valley'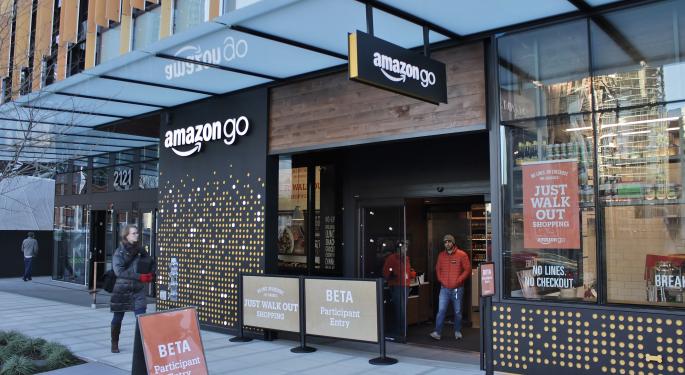 Amazon.com, Inc. (NASDAQ: AMZN) is looking to build a second headquarter for its company that could house 50,000 employees. The initiative is being dubbed "HQ2" and has many investors and Amazon enthusiasts wondering which city will host the new facilities.
Whoever does end up winning the honor of hosting Amazon's "HQ2" will automatically become a "mini Silicon Valley," James Thomson of Buy Box Experts said during Thursday's "Squawk on the Street" segment. But before that, the city would need to boast low costs with a lot of space for skyscrapers and near a university with a strong emphasis on technological studies.
Amazon is likely looking outside of its native state of Washington because many Silicon Valley companies have since expanded into the state so there is tremendous competition for talented employees, Thomson noted. As such, by opening a new location elsewhere where it won't be competing with other tech giants it may be easier to attract top local talent.
The problem is Amazon's advantage of potentially being the only major tech giant in a new city is that many other companies will follow suit after seeing Amazon's success, he continued.
"You have to do it quickly and you have to do it with some kind of advantage over all the other IT companies that are going to be looking for the same employees," Thomson said.
Thomson's best guess would be that Amazon is looking to set up shop in the Mid-West and shouldn't be able to find a new home since it is good at extracting as many tax incentives as possible. Ultimately, there will be no shortage of cities that will be happy to "pay dearly" to host Amazon's second home.
Related Links:
Analyst Sets Amazon 5-Year Price Target At $1,800
_______
Image Credit: By SounderBruce (Own work) [CC BY-SA 4.0 (http://creativecommons.org/licenses/by-sa/4.0)], via Wikimedia Commons
View Comments and Join the Discussion!
Posted-In: Amazon Amazon HQ 2 Buy Box Experts CNBCNews Events Tech Media Best of Benzinga