The 7 'Gremlins' That Could Haunt The Stock Market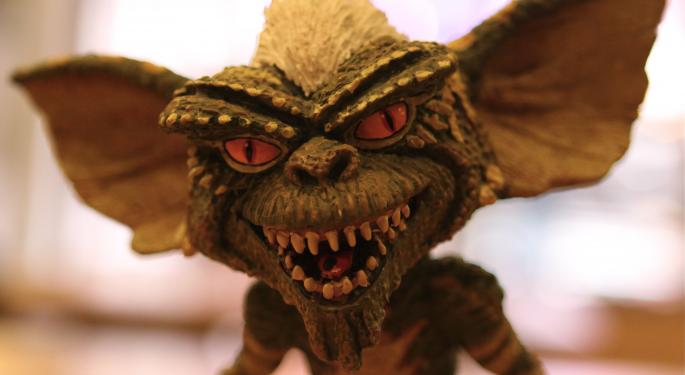 The stock market has seven "gremlins" which are currently counteracting the positives in the market, CNBC's Jim Cramer explained during his daily "Mad Money" show Thursday. These ongoing headwinds could, in fact, prevent the stock market from moving higher and could even push the market lower.
Here is a list of the seven "gremlins" identified by Cramer.
1. President Donald Trump
Trump is a tailwind for the stock market when he "sticks to the script on his teleprompter," Cramer said. When he is caught up in the moment and improvising he can end up with a soundbite that distracts the market from his economic agenda.
2. People Don't Care About Stocks
Investors are "losing interest" in buying stocks directly and are opting instead to use index funds and other "risk-averse assets." This essentially removes a lot of the "firepower" that helped boost the stocks higher over the past few months.
3. FAANG
Continuing on the second theme, Cramer believes that the "FAANG" stocks, an acronym to group together Facebook Inc (NASDAQ: FB), Amazon.com, Inc. (NASDAQ: AMZN), Apple, Inc. (NASDAQ: AAPL), Netflix, Inc. (NASDAQ: NFLX), and Google/ Alphabet Inc (NASDAQ: GOOG) (NASDAQ: GOOGL), are among the small handful of stocks that investors find compelling enough to buy.
4. The Bears
Several top-tier hedge fund managers continue to scream out their bearish stance on stocks which "weighs on us," Cramer said.
"We live in a world where the media quotes managers who've been wrong repeatedly and there's no harm, no foul," Cramer added. "So, if these guys aren't chided and ostracized for incorrectly saying stocks are too risky, why wouldn't they keep saying it?"
5. Wall Street Analysts
Similar to bearish hedge fund managers, Wall Street analysts are partly to blame, Cramer suggested. For instance, analysts who bash a stock that moved higher don't "have to pay any price for their shortsightedness." In fact, they are guilty of scaring away investors that would have otherwise bought a "great stock at a great price."
6. Amazon's Threat
Amazon is not necessarily a "gremlin," but perhaps a "death star" because of its reputation for being strong enough to "wipe out anything it decides to compete against." If that is the case why "even bother" trying to pick winning stocks.
7. The Fed
Finally, investors appear to be obsessed with the Federal Reserve and are busy watching over every word that comes out of every Fed official's mouth.
"Still, because we've been told endlessly that stocks will get slammed when they raise rates or sell bonds, many people fear investing," he continued. "The mindset this nonsense has created is so counter-productive to making money as an investor that it should be a financial crime."
Related Links:
What You Need To Know About The Annual Jackson Hole Symposium
As U.S. Budget Crisis Looms (Again), 7 Stocks Affected By Government Shutdowns
________
Image Credit: By Inti - http://www.flickr.com/photos/inti/3128443786/, CC BY 2.0, via Wikimedia Commons
Posted-In: Futures Politics Top Stories Economics Federal Reserve Markets Tech Media Best of Benzinga
View Comments and Join the Discussion!