Cramer: Apple Execs Aren't Panicking And Cook Is The 'Coolest Guy In The Room'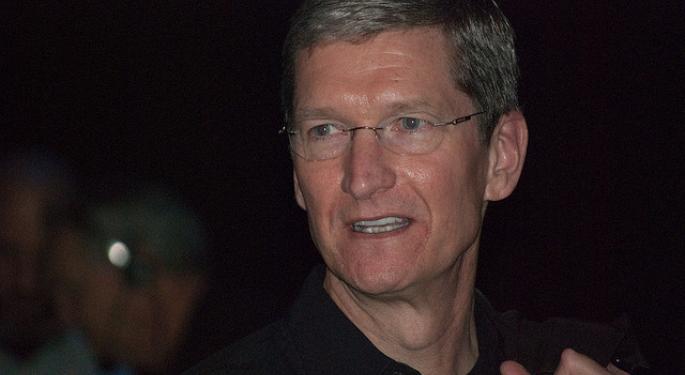 Fast Company's Mark Sullivan reported that Apple Inc. (NASDAQ: AAPL)'s top engineers and designers working on the iPhone are operating with a "sense of panic in the air."
Citing a source with knowledge of the situation, Sullivan noted that Apple is dealing with various obstacles ahead of the release of the new iPhone. In fact, Apple could have to deal with the prospect of either delaying the launch of the much-anticipated iPhone or ship the phone with some of the major features disabled.
But Jim Cramer isn't buying into the report one bit.
In fact, Apple's CEO Tim Cook is the "coolest guy in the room" and leading the company without any fear, Cramer said during Wednesday's "Squawk on the Street." Granted, there may be issues and kinks that Apple needs to fix but Cook isn't the type of executive to work on any set deadline to appease the Street's estimates.
"Tim Cook is not playing the analyst game," Cramer said. "He's not buying into the 'Supercycle,' he's not talking about this quarter, it's not the way he thinks. And that's one of the reasons why the stock is one of the greatest performers of all time."
Bottom line, the iPhone will incorporate completely new technologies and requires new components. Cook wants to get everything right and won't sell an iPhone device until they feel confident consumers will embrace it.
Related Links:
Munster: Apple's Stock Will Go 'Much Higher'
_________
Image Credit: By Kindly granted by Valery Marchive (LeMagIT) (Flickr) [CC BY-SA 2.0 (http://creativecommons.org/licenses/by-sa/2.0)], via Wikimedia Commons
View Comments and Join the Discussion!
Posted-In: CNBC Fast Company iPhone Mark Sullivan Tim CookTop Stories Tech Media Best of Benzinga