Tim Cook On Politics And His Relationship With The White House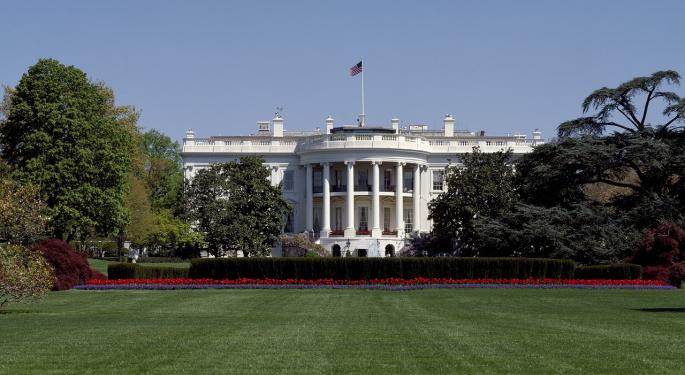 Apple Inc. (NASDAQ: AAPL)'s investors had valid reason to be concerned what a Donald Trump presidency would mean for their investment. With shares of Apple higher by more than 25 percent since the start of 2017, these concerns may be seen now as being overblown.
Apple CEO Tim Cook spoke with Jim Cramer Wednesday with a portion of the conversation focusing on his relationship with the White House and President Trump.
Cook took a diplomatic approach and told Cramer his approach to any world leader is the same. He emphasized there will always be topics in which everyone is on the same page and others where there are disagreements. But when there is a disagreement, the worst thing to do is stay quiet as this "doesn't do your cause any good."
Agree, Disagree On Money & Immigration
One of the areas where Cook and Trump see eye-to-eye is repatriation of foreign cash at favorable tax rates.
Cook wants a notable tax break to bring home hundreds of billions of dollars that is sitting overseas and Trump wants companies to have access to this cash to re-invest in their businesses and create jobs.
Cook said the 35 percent-plus tax rate on bringing home overseas cash is "kind of bizarre" and "doesn't make sense on a broad basis." He added that the Trump administration is giving the impression it's working hard on implementing tax reform, but in the meantime the company has no problem with borrowing cash through debt raises if needed.
On the other hand, Cook's opposition to Trump's controversial immigration plan was no secret. He was short on detail, but did say immigration is an issue he wants to "influence" at the highest levels.
See Also:
Tim Cook Talks About Apple's Role In U.S. Job Creation
Politics And Business Don't Go Together, Just Ask One Of Under Armour's Most Notable Ambassadors
Posted-In: CNBC Donald Trump immigration Mad Money Tax ReformPolitics Media General Best of Benzinga
View Comments and Join the Discussion!