Should Apple And Samsung Be Worried About This Chinese Smartphone Maker?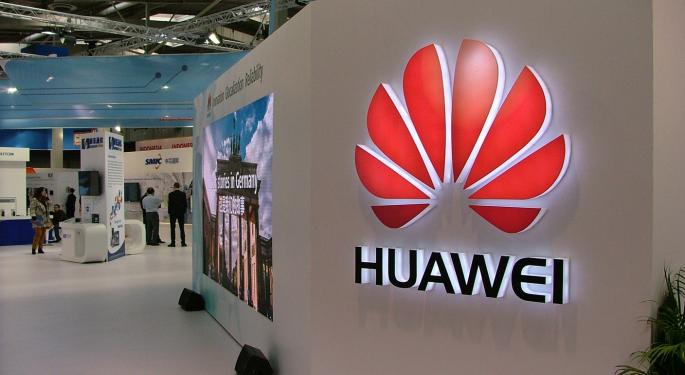 Smartphone users across North America looking for a high-end device typically choose between Apple Inc. (NASDAQ: AAPL) or Samsung.
China-based Huawei is looking to change that, as the company unveiled its flagship phone called Mate 9 at the Consumer Electronics Show this week.
In fact, the Mate 9 will be available for sale in the United States as of Friday for $599. Retailers including Best Buy Co Inc (NYSE: BBY), Amazon.com, Inc. (NASDAQ: AMZN), Newegg and B&H will be selling the device.
According to GSM Arena, the Mate 9 will be the first smartphone ever to have Amazon's cloud-based voice (called Alexa) service integrated. The phone also boasts a dual-camera system with one 20MP monocrhome and one 12MP RGB sensor.
According to CNBC, Huawei's end-goal is to out-seed either Apple or Samsung (or both) to become the largest or second largest smart phone seller by global volume.
Should Apple And Samsung Be Worried?
Adam Zuckerman, founder of Fosterly, was a guest on CNBC to offer his expert take on Huawei's new phone and its ambitions.
Speaking from the sidelines at CES, Zuckerman started off by saying that the Mate 9 is a very impressive phone with a big 5.9-inch screen. Perhaps more importantly is the fact that the phone will be able to control all of the existing Alexa devices in a household as well as other connected devices.
Moreover, the phone will also boast virtual reality integration through Alphabet Inc (NASDAQ: GOOG) (NASDAQ: GOOGL) Google's Daydream VR platform. Zuckerman noted this will be the first non-Google phone to offer Daydream support, and as the VR industry grows over the year, Huawei will be in an unbelievable position to attract new clients.
However, the many people who were excited to see the phone aren't familiar with the brand, presenting a major challenge for the Chinese company.
As such, Zuckerman thinks that Huawei can move up the ranks, but it won't be an easy task. The company itself believes it can move up the ladder within one to two years, but as Zuckerman noted, the company shipped just 33.6 million devices in the third quarter of 2016, which is notably behind Samsung, which led all smartphone makers with 72.5 million.
Image Credit: By Olaf Kosinsky - Own work, CC BY-SA 3.0 de, Wikimedia Commons
View Comments and Join the Discussion!
Posted-In: CESNews Emerging Markets Events Global Markets Tech Media Best of Benzinga