Ackman On Icahn: I Think He Knows Herbalife Is Toast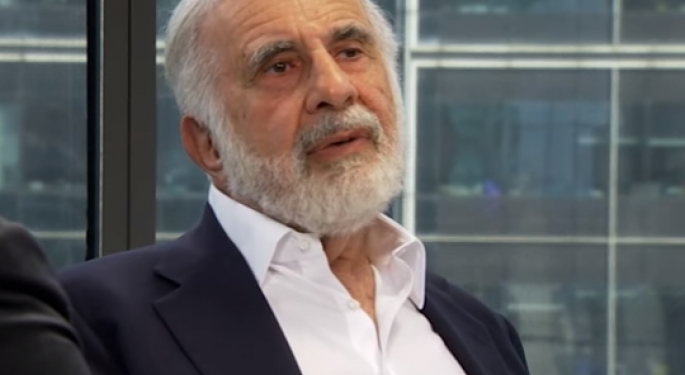 The Wall Street Journal reported Friday that Carl Icahn tasked bankers at Jefferies with finding a buyer to sell part or all of his 18 percent stake in Herbalife Ltd. (NYSE: HLF)
Following the report, Bill Ackman, the hedge fund manager with a billion-dollar short bet against Herbalife, confirmed on CNBC he was approached by the bankers.
Ackman told CNBC he was approached around August 4 by the bankers at Jefferies who were looking to put together a block trade so Icahn can exit his position in Herbalife.
Related Link: Carl Icahn Reportedly Considered Sale Of Herbalife Stake To Rival Bill Ackman
Ackman views the news of Icahn looking to sell his stake as "terrific" news given his short position against the company. He noted that Icahn's stake in Herbalife has created "confidence" in the company.
"If Carl [Icahn] sells," Ackman continued. "It can accelerate the demise of the company."
Specifically, Ackman pointed out that under new FTC guidelines, Herbalife can only compensate top performers based on verified, documented and profitable retail sales to people who are not part of the system.
Ackman did however acknowledge that Icahn has made a large profit on his Herbalife trade, as his average cost per share is in the low $30s. As such, Icahn has nearly doubled his investment and he no longer has to "worry about what happens to the company" as it's now required to completely change its business.
"I think he knows that this thing is toast," Ackman argued.
Finally, Ackman confirmed that he would be open to buying a small stake in Herbalife, but only to do so with the expectation of selling the stake in the open market the following day. He noted that a loss on the trade could be "worth it" just to "get Carl out" of the trade.
View Comments and Join the Discussion!
Posted-In: Bill Ackman Carl Icahn CNBCNews Hedge Funds Legal Media General Best of Benzinga