Tony Robbins' Advice To Investors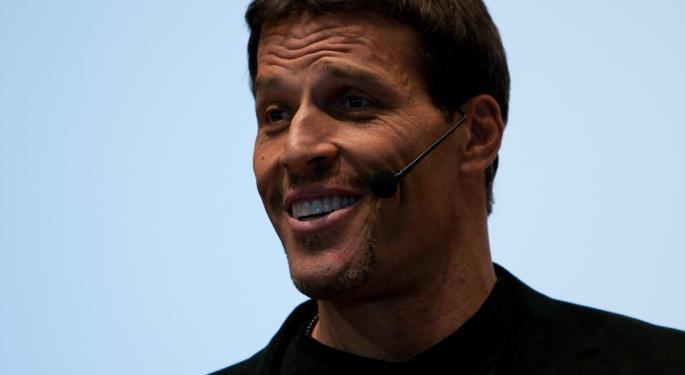 Famous life coach Tony Robbins book on personal finance, "Money: Master the Game," reached the No. 1 spot on New York Times' Best-Sellers List recently.
Robbins was on CNBC Tuesday to discuss the biggest investing mistakes people make and the key to successful investing.
Biggest Mistake
When Robbins was asked what he thinks is the biggest mistake most people are making regarding money or investments, he replied, "I think the biggest piece is they don't manage risk."
He explained, "What I found in common is they [prominent investors] are obsessed with not losing money, as simplistic as that sounds. I mean, really obsessed. For Warren Buffett, don't lose money [is rule number one]; rule number two – see rule number one. But the way they do it is asset allocation."
He continued, "And then the second thing I learned was, really, these people not only avoid risk, but they really go for asymmetrical risk-reward and the average investor doesn't even know what that term means. It simply means how do I get the least amount of risk with the greatest upside."
Related Link: Is It Time To Rethink Your Investment Strategy?
Key To Success: Asset Allocation And Low Fees
"Nobody beats the markets except a few unicorns. Ninety-six percent of all mutual funds fail to match the market. So, the 4 percent that do, what's your chance of getting that?" Robbins asked.
"It's asset allocation and it's making sure you don't pay the fees.
"If I can get the index for 0.17 percent, and I am going to go and pay a mutual fund 3.1 percent for some of the same stocks, that's like – do I buy a 100 core [sic.] for $20,000 or pay $450,000? That's proportional difference and it's the same product!" he concluded.
Image credit: randy stewart, Flickr
View Comments and Join the Discussion!
Posted-In: CNBC New York Times New York Times' Best-Sellers List Tony Robbins Warren BuffettEducation Media General Best of Benzinga