President Obama's Tech Device Habits Might Surprise You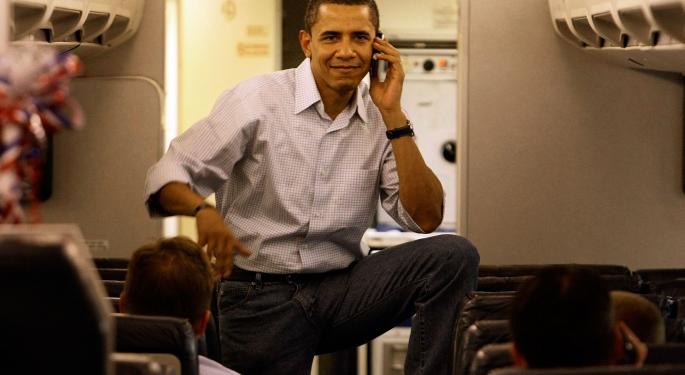 President Obama recently gave an interview to Re/Code's Kara Swisher on CNBC, where he talked about the devices he uses and how he will first scrutinize the iWatch from Apple Inc. (NASDAQ: AAPL) before jumping on the bandwagon.
Do You Watch Shows, News, Games On A TV Or Smartphone?
"I'll be honest with you. When it comes to ball games, I am still usually watching on TV and DVR. But when it comes to highlights, I am usually watching on an iPad," Obama said.
Why Do You Still Use A Blackberry?
"I use a BlackBerry mainly because I am so restricted in what I can do, [which] is basically just messages, and it's still easier for me to tap off of," Obama replied.
"Basically most of my non-work-related stuff, I am working off the iPad and the girls all have iPhones. So, I can get around with that."
Related Link: What Comes After The Apple Watch? 12 Patents Provide Clues
Do You Use Any Other Devices?
"It's basically the iPad," Obama said.
"Although I don't have a FitBit yet – but I work out hard – word is that these Apple Watches just might be a good companion for my workout. So, I am going to see. I am going to test it out.
"I don't want to give Tim Cook too big of a plug until I have seen the product, but he tells me it's pretty good."
If There Were A Hash Tag For Your Administration, What Would It Be?
"[#]YesWeCan," Obama answered.
View Comments and Join the Discussion!
Posted-In: #YesWeCan CNBC CNBC Fitbit iPad iPhoneTech Media Best of Benzinga