Former Staples CEO Thomas Stemberg Weighs In On Today's Big Retailers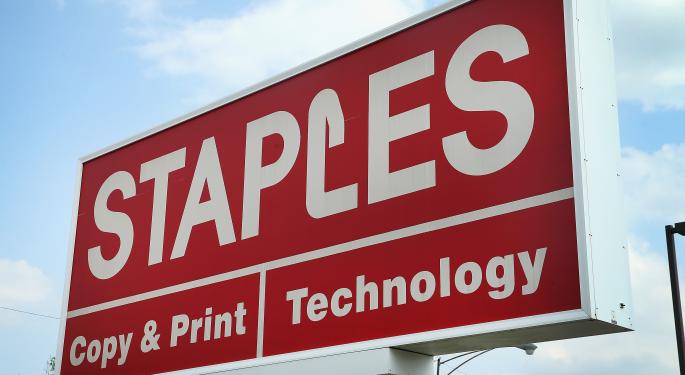 Thomas Stemberg founded Staples in 1986. He went on to drive sales to $7 billion by 1999, but he was pushed out in 2005.
Though Stemberg no longer runs a major corporation, he still has a great feel for retail.
Stemberg pointed to several negatives for the retail environment in an interview with CNBC. These negatives, or consumer headwinds, included weak consumer confidence because of a lack of wage growth and a reduction in labor-force participation.
He still sees pockets of strength in value retailers.
Related Link: How Wal-Mart Is Disrupting The Dollar Store Space
TJX Companies (NYSE: TJX)
TJX Companies is best known for its T.J. Maxx, Marshalls and HomeGoods brands. TJX Companies has pleased investors over the past three years, delivering stock appreciation of 126 percent. TJX Companies also currently yields 1.1 percent. Despite a hesitant consumer, TJX Companies has managed to drive its top line 3.15 percent over the past year.
By offering consumers exceptional value -– 20 percent to 60 percent off department-store prices –- its brands tend to attract a lot of foot traffic.
Costco Wholesale (NASDAQ: COST)
Though not quite as impressive in regards to stock appreciation and top-line growth over the same time frames, Costco has been a winner.
Over the past three years, Costco's stock has appreciated 74 percent. Over the past year, Costco has driven its top line 2.96 percent. It also currently yields 1.2 percent. Costco targets the middle- to high-end consumer looking for exceptional value.
Wrong Place, Wrong Time
On the other end of the spectrum is McDonald's (NYSE: MCD).
According to Stemberg, McDonald's failed to change with the health-conscious consumer trend, which left it out of favor with millennials. He also thinks McDonald's didn't see reason to change in the past because it was big, successful, and had no interest in altering its course and retraining all its employees. With 35,000 restaurants around the world, however, McDonald's might need to change with the times if it wants to see continued growth.
A Misunderstood Company
Then there's Wal-Mart Stores (NYSE: WMT). Wal-Mart's supercenters aren't seeing sales growth at the same pace as in the past, but Stemberg believes that Wal-Mart's aggressive move into eCommerce will eventually lead to long-term rewards. Wal-Mart grew online sales 30 percent in 2013 and expects similar growth this year.
Posted-In: retail retailers Staples Thomas StembergCNBC Media General Best of Benzinga
View Comments and Join the Discussion!