Vladimir Putin's International Economic Forum Recap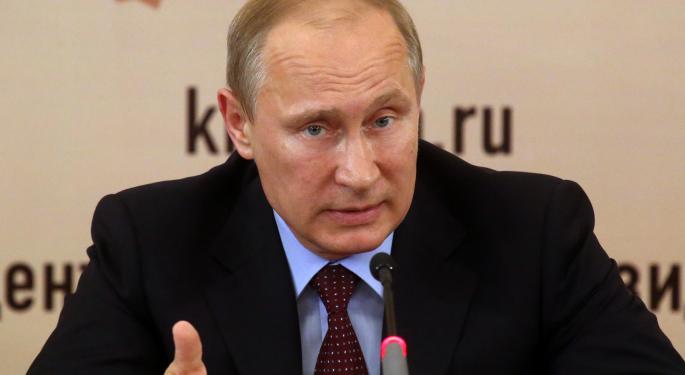 Russian President Vladimir Putin spoke at the International Economic Forum in St. Petersburg on Friday.
He discussed Russia's plans for growth, political heat in the form of economic sanctions from the United States on Russia, and more.
Some of Vladimir's appearance was broadcast and analyzed by CNBC's Squawk Box, in addition to the show's exclusive interview.
Related: Catching Up With The BRIC ETFs (BKF, BIK, EEB)
On growing Russia's economy
"Russia is facing a slowdown in growth rates. That happened due to those external and internal factors. There are some systemic imbalances in our economy as inefficiency and other problems that we are facing… What we have to do is provide qualitative changes in the Russian economy.
"First, we have to drastically change any export structure. We have to change the economy structure first, and as a result, the infrastructure will also change. We are going to increase the known energy commodity exports to six percent every year.
"At the same time, we are going to implement an efficient policy of import substitution. At the same time, we're going to fulfill all of the obligations to our partners at the forming, at the emerging [inaudible] economic union," said Putin, assuring to listeners that Russia would be increasing its economic competitiveness.
On President Obama's accusations of supporting separatist groups in the Ukraine
"Who is he to judge? Who is he to judge, seriously? He wants to judge people. Why didn't he get a job and work somewhere? I don't think he accuses me. It's his point of view and I have my point of view when it comes to certain things, you know," said Putin.
On accepting the legitimacy of the Ukrainian elections on Sunday
"We all understand and we all see the difficulty in Ukraine. [We] want to see this country emerge from this projected crisis, and we will have respect for the choice that the Ukrainian people will make. We will watch very closely what will happen."
On Edward Snowden
"Mr. Snowden considers that he's a champion of human rights. He built his life around it. He's a young man. I don't know how he's going to live further. I am not trying to joke. How is he going to live further?
"He is sitting in Russia now, but he has chosen his fate himself. We gave him a refugee; he's not our agent; he didn't give us any secrets," said Putin.
Putin also called for closer ties to the European Union and said that U.S. sanctions on Russia will have a boomerang effect on Western countries.
Jason Cunningham had no position with the mentioned entities while writing this article. Visit Jason on Twitter at @JasonCunningham and @Benzinga.
Posted-In: Russia Squawk Box St. Petersburg International Economic ForumCNBC Politics Economics Media General Best of Benzinga
View Comments and Join the Discussion!