Retailers Look to Lure in More Holiday Shoppers with Extended Hours & Discounts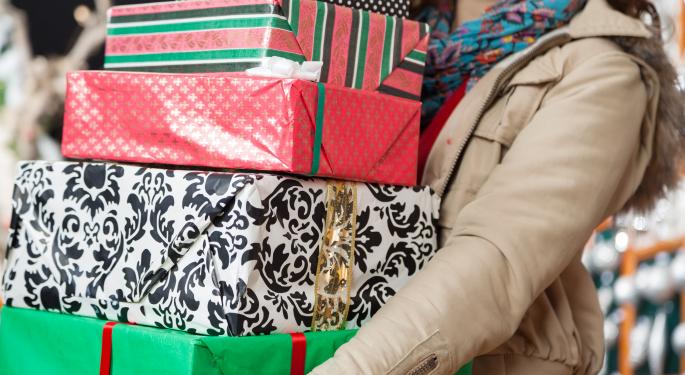 What may be good news for last-minute Christmas shoppers can also be seen as a sign of alarm from some retailers, who appear to be concerned about both the shortened holiday shopping season this year and word that some consumers have been staying home during the recent bout of winter storms.
On Tuesday Toys R Us announced its stores will remain open, nationwide, for 87 consecutive hours – beginning at 6:00 a.m. Saturday, December 21, and continuing through 9:00 p.m. on Christmas Eve.
"With only eight shopping days remaining until Christmas, we are offering customers extended, uninterrupted time in stores," Troy Rice, the company's executive vice president, stores and services, said in a press statement, "providing them the opportunity to shop whenever is most convenient for them – whether early in the morning or late at night."
The Toys R Us marathon comes after last week's announcement by Kohl's Department Stores (NYSE: KSS) that it will be keeping its doors open for more than 100 hours; from 6:00 p.m. Friday, December 20, through 6:00 p.m. on Christmas Eve.
Related: Cable & Wireless Communications Seen as Takeover Target
The National Retail Federation is calling this year "a holiday season like no other," as its latest survey finds nearly half of consumers plan to do the remainder of their holiday shopping online – the highest percentage in the survey's 11-year history.
And it appears a large number of consumers have yet to wrap up their holiday shopping. According to the survey, just over 29 percent plan to complete their shopping by Wednesday, with another 14.2 percent hoping to be done by Friday -- and 10.1 percent saying they will wait until Christmas Eve.
"Last-minute shoppers don't have quite the breathing room they did last year when there were four full weekends, but we shouldn't underestimate procrastinators," Pam Goodfellow, consumer insights director for Prosper Insights & Analytics, the group that conducted the NRF survey, noted in a press statement. "Last-minute shoppers are savvy bargain hunters who know just how to get everything they need to finish their gift lists."
Along with the marathon, pre-Christmas shopping hours, retailers are reportedly continuing their discounting trend this season – in an effort to lure in more consumers.
CNBC quotes a letter issued by Morgan Stanley analysts Kimberly Greenberger – that notes dramatic price-slashing at Abercrombie & Fitch (NYSE: ANF), Express (NYSE: EXPR) and Gap's (NYSE: GPS) Banana Republic.
"This is the week retailers could lose confidence in sales projections and hit the 'panic button' by offering deeper-than-planned promos," she added.
Posted-In: News Guidance Psychology Retail Sales Economics Media Press Releases General Best of Benzinga
View Comments and Join the Discussion!