Jack Welch Talks Business: CEOs and Regulation Woes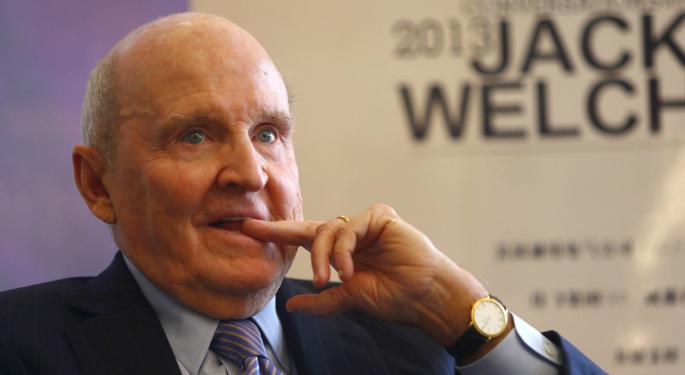 Former Chairman and CEO of General Electric (NYSE: GE) and Jack Welch Management Institute Executive Chairman Jack Welch acted as a guest host on CNBC's Squawk Box Friday morning.
While on the air, Welch had plenty to comment on in terms of the big news in business, including JP Morgan's (NYSE: JPM) regulation woes and the possibilities around Microsoft's (NASDAQ: MSFT) new CEO.
Welch seemed to think that JPMorgan announcing that they're going to spend $1.5 billion on legal aid and better compliance with regulation was a somewhat silly offer.
"Look, a billion and a half dollars or more is not going to solve the bad actor doing this and that in London [London Whale] or somewhere else. You, you're not going to -- the regulators were sitting in their offices. They had a regulator, almost one regulator per one trader standing over them," said Welch. 
"I mean, you can't regulate against bad behavior if they have it. Now, I don't think that the bad behavior occurred here by JP Morgan and the mortgage issue on the trading thing, they had a bad actor." 
During his 20 years as CEO of GE, Welch was responsible for the company's value raising by 4,000 percent, taking it from $25 billion a year company to $130 billion by his departure. This means that Welch's comments on who Microsoft's next CEO should be are strongly heard in the business community.  
Related: MORE Evidence That The iPhone 5C Is A Disappointment
While he's not aware of the inside candidate, Welch said that if they had one, they would have announced it when Steve Ballmer made his decision to step down. Though he called Alan Mulally, current President and CEO of Ford (NYSE: F), a good front runner, he thinks there's a better pick. 
Welch likes Sam Palmisano, retired IBM (NYSE: IBM) CEO, for the job.
"I've been out pushing that. He's 62 years old. 60 is the new 50, so I tell him he's 52. Sam has been through it all…he knows the industry in his toes," said Welch. 
Welch called Palmisano one of the best leaders by far in the last decade, and one that people like and respect while knowing every in and out of his business without fear.
Welch thinks that Bill Gates is currently too involved with philanthropy to want to go back to running Microsoft.
At the time of this writing, Jason Cunningham had no position with the mentioned entities. Visit Jason on Twitter @JasonCunningham.
View Comments and Join the Discussion!
Posted-In: Futures Movers & Shakers Hot Markets Movers Tech Media General Best of Benzinga