Bob Corker Is Disappointed In Obama's Message And Doubts Russia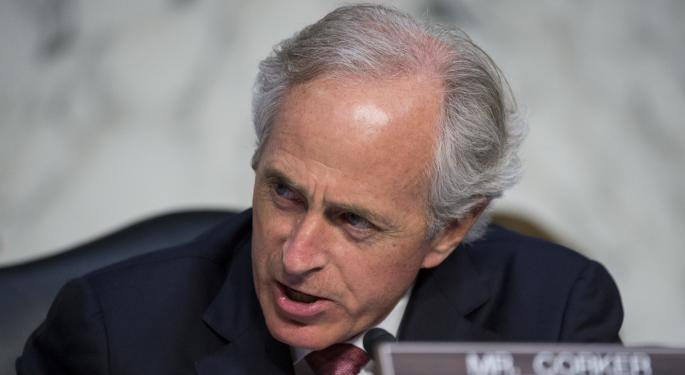 Sen. Bob Corker (R-TN), who favored striking against Syria when it was proposed, went over elements of President Obama speech announcing the decision hold off on military action for a diplomatic route that he disliked, including what he considers a loss of credibility.
"The president gave a good speech last night. He's a very good speech maker, but I could not have been more disappointed in the content,"
When the president "draws a bright red line and a country passes that," Corker said, it effects our credibility. President Obama's promise to train and arm opposition focus hasn't come to light, and he cited future actions against Iran as another issue in terms of credibility.
"I think the president's done more in a short period of time to damage American credibility around the world than any modern president," said, noting that he believes the situation is being handled in regards to the president's image, saying that his argument for action lacks depth.
Related: MKM Partners' Charles Campbell Sees U.S. Continuing To Play Syria Safe
There is great difficulty in finding, obtaining, and removing chemical weapons. It's a task that is likely to take decades. Corker believes that the Russians and Syrians could be involved in a ploy to stop U.S. momentum and the possibility of action being take.
"I'm 1,000 percent supportive of us figuring out the right solution here diplomatically, and I hope that this is real. I have about zero trust, maybe lower, of Russia," said Corker, stating that it is still, however, in our nation's best interest to pursue diplomacy.
At the time of this writing, Jason Cunningham had no position with the mentioned entities. Visit Jason on Twitter @JasonCunningham.
View Comments and Join the Discussion!
Posted-In: Bob Corker CNBCNews Politics Global Hot Media General Best of Benzinga