Discussing Groupon's Future With Piper Jaffray's Gene Munster (GRPN)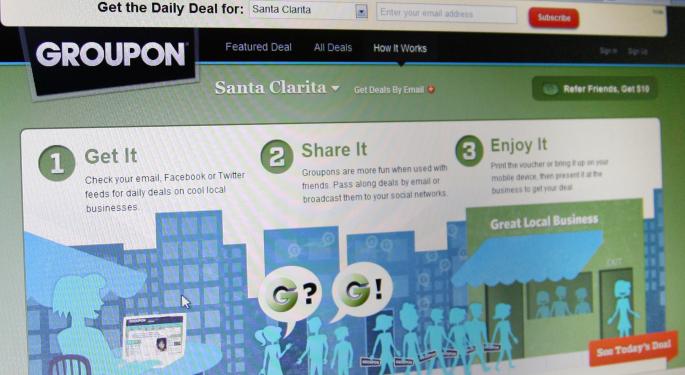 Piper Jaffray's managing director and senior research analyst Gene Munster talked to the folks at CNBC's Squawk Box about Groupon's (NASDAQ: GRPN) recent success, evolving business and future competitors.
Munster noted that the company can keep up with its current trajectory path, saying that the company is very different from a year ago. Over the past year, Groupon has shifted from pushing their product via email to pulling in people by keeping up better deals for longer periods of time, which ultimately makes it easier for those searching the site to find good deals, he said.
"Everybody wants a good deal, and they're starting to capitalize on that. So, I think the concept of everybody looking for a good deal isn't going to change over the next decade," serif Munster.
"And so I think in that sense, this actually becomes an investible story over the long haul, which, a year ago it wasn't."
Now, however, companies like Google (NASDAQ: GOOG) offer instant adds in relation to what you're near, and other companies are following suit.
"You're going to get bombard with deals across the board. As mobile phones become, and advertisers get smarter at targeting…there is going to be that bombarding factor," said Munster.
"Where Groupon differentiates, and LivingSocial is their really true competitor, where they differentiate is they really, it becomes a place that aggregates these deals, and it's the difference between a deal pushed on you versus you going out and trying to build a night or a weekend, or some event around that."
He noted that when deals are pushed, costumer fatigue can be come an issue. Groupon had 54,000 deals last quarter, up form 47,000 in March. This makes them a large deal destination, Munster said.
Related: Benzinga's PreMarket Info Recap for August 8, 2013: Tesla Causing Pain In The Shorts!
As far as international expansion goes, Groupon has had issues. Down 25 percent in the June quarter, and 18 percent in March, Munster said that the company is showing a sliding international performance. Groupon has responded to the worsening performance by asking investors for more time to export their playbook, which has been successful in the United States.
"If they can export that playbook, I think you're going to see some improvements in international, and I think that investors are going to give them a little bit more leeway that they're put two quarters in a row," said Munster.
View Comments and Join the Discussion!
Posted-In: Earnings News Futures Topics Hot Markets Tech Media Best of Benzinga