Sen. Elizabeth Warren (D-MA) Defends 21st Century Glass-Steagall Act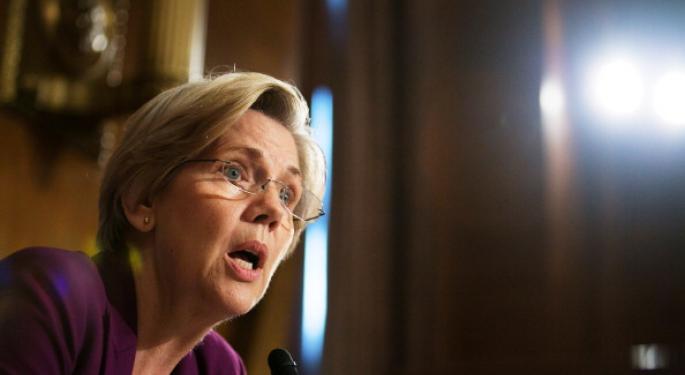 Tougher regulation is needed for the too-big-to-fail banks says Sen. Elizabeth Warren (D-MA) on CNBC's Squawk Box Friday morning.
Glass-Steagall Act was repealed in 1999, but before then, it's history was rich with banking opposition. Warren said that it dates back to the Great Depression. In 1933, one of the solutions to preventing another crash was to separate regular bank accounts (checking and savings clients) from investment clients.
She said that you can't have that money pooled together in the same institution. For banks and traders, however, it's a win-win scenario. Banks get access to the high trading profits and traders get access to client deposits.
"So they kept hammering on Washington to change it and regulators started changing it in the 1980s, and they started creating loopholes in the old Glass-Steagall Act. So that finally in 1999, congress got rid of the whole thing, but it was a shell by then. And so, what happened? We have the big crash in 2008,"
"What does everyone…say about it? They say too much concentration in financial services creates too-big-to-fail. Puts us at bigger risk. And what's happened since 2008? The four biggest financial institutions are now 30 percent bigger than they were in 2008."
Warren said that there's no "magic bullet" that will entirely prevent "too-big-to-fail."
Related: Regulation Reform Is A Smooth Process To JP Morgan Chase's Jamie Dimon (JPM)
"The central premise behind the 21st century Glass-Steagall is to say: If you want to get out there and take risks, go and do it. But what you can't do is you can't get access to FDIC insured deposits when you do. That by itself, a little bit, helps bring down the size of some of the financial institutions and it says at least one portion of our banking sector stays safer, and I think that is a good thing," said Warren.
"It moves us in the right direction. It doesn't fix everything by itself. It doesn't pretend to fix everything by itself, but it moves us in the right direction, and that's what we want. "
When tracing the lobbying of bankers and traders in 1932 and 1933, Warren said that they even "hammered" policy makers back then because they "wanted to be able to get access to those deposits in order to fuel more speculative trading."
From 1797 to 1933, the American banking system crashed about every 15 years. For the 50 years following the passage of Glass-Steagall, only a small number of banks failed, and the "boom and bust cycle" was no longer an issue.
Warren noted that Glass-Steagall is a bipartisan effort, citing senators John McCain (AZ-R), Maria Cantwell (D-WA), and Angus King (ME-I) as those fighting along side her.
Posted-In: News Politics Topics Events Econ #s Economics Hot Movers Best of Benzinga
View Comments and Join the Discussion!