From The Paris Air Show: Barclays' Carter Copeland On Boeing 77x vs. Airbus A350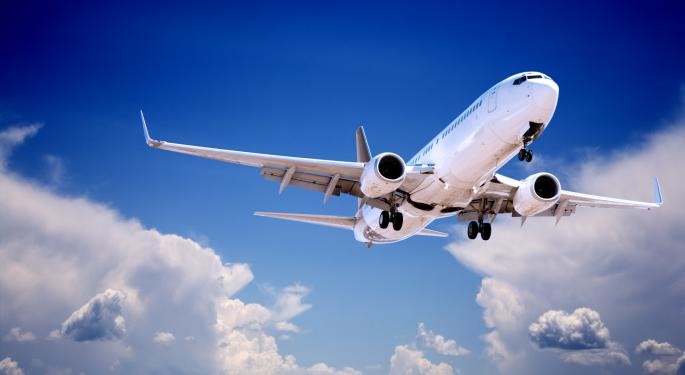 Carter Copeland, Barclays' (NYSE: BCS) equity research analyst covering global aerospace, appeared on CNBC's Squawk Box Monday morning live from the Paris Air Show, where he discussed the battle for buyers between the Boeing (NYSE: BA) 77x and the Airbus A350.
According to Copeland, there doesn't have to be a winner or a loser between the two aerospace companies.
"I think one of the things we find in the wide-body market today is there's sufficient demand for all of the fuel efficient replacement airplanes out there. I think the demands of costumers are differentiated enough on the wide-body market that from an investor's perspective, both companies could actually produce sufficient numbers of airplanes for both of these programs to make a lot of money," said Copeland.
"So I think the Air Show is going to see a lot of competitive jockeying with both Boeing and Airbus claiming that they have the better product lineup to address the market space, but I think both companies can actually come out with both products as successful investments for each."
Copeland said that in developed markets, there's a substantial amount of replacement. He referred to it as a "bubble of replacement demand," in which many are getting rid of old airplanes and replacing them with new, fuel efficient models. He went on to say that there's growth demand from all of the bigger growing economies like China, and even in the Middle East and Latin America.
Even though economies aren't growing as rapidly, Copeland said that aerospace companies are "still selling lots of airplanes."
As far as which company to invest in overall, he said that there are many elements of Boeing that Barclays likes. Mainly the lower-risk profile associated with having the Boeing 787 be beyond the development risk that Airbus' A350 still faces. Copeland also commented that Boeing has committed to very high levels of capitol deployment, and that in this interest rate environment, that makes them an attractive investment.
Posted-In: AirbusNews Topics Global Hot Markets Media General Best of Benzinga
View Comments and Join the Discussion!