Runa's Dan MacCombie Chats About Their Place In The Energy Drink Biz (WFM, VSI)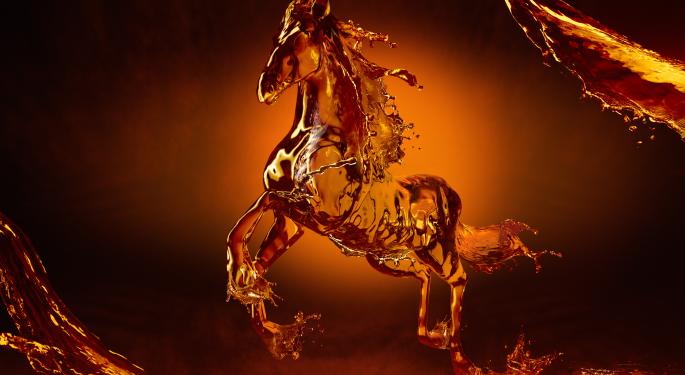 Dan MacCombie, Runa co-CEO and co-founder, went on CNBC's Squawk Box this morning to go over the energy beverage company's history, distribution, and the differences between them and their competitors.
"All of our products are based on guayusa. It's what we call a super leaf. We source it directly from farmers in the Amazon. It's got as much caffeine as a cup of coffee, twice the antioxidants of green tea, and gives what we call clean energy, a really focused, powerful feeling that doesn't give you a lot of the downsides of other forms," said MacCombie.
It's not actually tea, but rather a leaf from a tree found only in South America. According to the company's website, the guayusa tree leaf is what the indigenous people of the Ecuadorian Amazon Rainforest have used to brew as "tea" for millennia.
The drink is meant to take energy drinks head-on. The difference between them and many of their competitors is that Runa drinks only have one active ingredient opposed to many. When it's comes to the benefits of the Runa product family, MacCombie says that the proof is in the guayusa leaf's history.
He said that the movement of the energy drink business is heading towards a future of trust-based products, saying that he thinks more consumers are becoming aware of what goes into their bodies. He positioned Runa as a company that's very straightforward with what they give to you.
Currently, the alternative energy drink is available nationally at Whole Foods (NASDAQ: WFM), Stop & Shop, and the Vitamin Shoppe (NYSE: VSI) amongst other chains, and their distribution range is growing.
He said that they're really "rolling out" in many delis up and down the East Coast, saying that that's where beverage companies like theirs get most of their business. MacCombie mentioned Boston, New York, and Washington D.C. as key areas where Runa is heavily stocked in sandwich shops.
Looking at the bigger picture, MacCombie went on to say that the company's main goal first and foremost is to build up the ecosystems of the farmers in the Amazon, saying that selling their products drives that goal. He said that bigger beverage companies recognize that companies like Runa are their future, basing the prediction on what the consumer is looking for in a product these days. He entertained the possibility of being acquired, saying that they wouldn't compromise their main goals as a result.
"We are what their brands are going towards, and so they want to really bring in the best of those companies and make sure that they preserve what makes them good and solid. So if we did a deal like that, that's how we'd want to do it," said MacCombie.
Posted-In: CNBC News Movers & Shakers Topics Hot Markets Movers Media Best of Benzinga
View Comments and Join the Discussion!