Warren Buffett Takes Center Stage Again After Shareholders' Meeting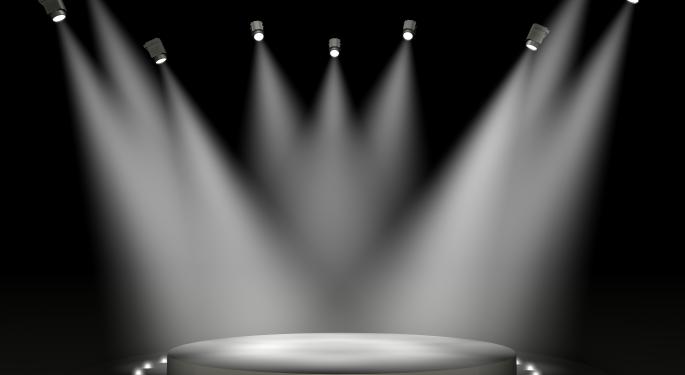 Warren Buffett, chairman and chief executive officer of Berkshire Hathaway (NYSE: BRK-A) (NYSE: BRK-B), appeared on CNBC's Squawk Box for three hours Monday morning.
Buffett, fresh off of a booming weekend in Omaha, Nebraska after Berkshire Hathaway's annual shareholders meeting, spoke from an airplane hanger in Omaha, next to a NetJets private plane.
Buffet started off the morning by saying that the big headline of the weekend was that all of the attendees of the meeting had a good time, including him, noting that he waved to thousands.
"They all call me Warren, which I like," said Buffett.
Buffett was joyous, stating that sales covering Berkshire Hathaway's various enterprises broke records.
"So people seem pretty happy," said Buffett.
The conversation went to the recent leverage that Berkshire Hathaway took on in buying BNSF Railway, during which Buffet said that he doesn't consider their partners in this private equity.
"These are people that buy for keeps," said Buffett.
Buffet said that Berkshire Hathaway prefers buying business, and that they'll be at Heinz (NYSE: HNZ) forever. He included that if other partners ever decided to sell out, he would hopes that they sold to Berkshire Hathaway.
In regards to the jobs report, Buffett thought it would be a weaker number. He said that in terms of Berkshire Hathaway's business, there has been gradual improvement over the past four years, noting a slow pace across the economy.
But Buffett also included that Berkshire Hathaway has had record investment for the past two years in their various projects.
As far as Europe goes, he says that you never stop investing just because an economy is in trouble.
"We bought stocks when the United States was in trouble in 2008, and it was in huge trouble, and we spent $15 and and a half billion in three weeks," said Buffett.
"And between Sept. 15 and Oct. 10., it wasn't because the news was good, it was because the prices were good."
Buffett went on to say that if you believe that Europe will still be around, than the troubles it is having now will offer you an opportunity to buy into their future. He compared it to buying his first stocks after Pearl Harbor, because prices were good and he believed that the U.S. would would win the war.
Bill Gates, Microsoft (NASDAQ: MSFT) co-founder and chairman, who joined Buffett later on during the morning, is on record saying that he saw a 25 percent increase in private jets at the shareholders meeting.
Buffett talked about private jets while viewers got a glimpse inside a plane that he helped designed, the NetJets Global 6000. From inside the jet, Buffett said that very, very rich people cut back in flying in recent years, but now it's coming back.
Buffett also talked on insurance operations being up, commenting on Berkshire Hathaway not paying out a lot in terms of catastrophe dollars. According to Buffett, all parts of their insurance stakes are doing well, led by GEICO.
Buffett said that it's important to have productive assists, and that he favors those enormously over fixed dollar investments. He declared that bonds are terrible investments right now.
Buffett also talked about investing in the United States' future for hundreds of years to come. In regards to oil and natural gas, Buffett believes that we have to look at our reserves as investments in our future generations, saying that using natural resources from outside of the U.S. isn't good for the economy in the short-term, but is better for the country in the long-term.
Buffett also commented on why he stays away from big broadcast media and technology, saying that because these industries are subject to change, he can't predict them ten years in advance. If the foresight isn't there for Buffett, he's not buying.
"As long as I can make money with ketchup and Coca-Cola (NYSE: KO)…There'll be a couple of big winners in that list and there'll be a couple that will really surprise you on the downside," said Buffett, referring to several bigger tech and broadcast media companies.
In regards to buying shares in International Business Machines (NYSE: IBM) and the bad past couple of quarters that they've had, Buffett was positive.
"I think we'll be right about IBM," said Buffett.
He likes IBM's position in the world and is willing to invest a lot of money into the company, but Buffett doesn't think they are as bulletproof a company as Coca-Cola.
In regards to J.C. Penney (NYSE: JCP), where Fruit of the Loom is a supplier, Buffet calls retail a tough game where the competitors are smart. But as someone who once worked for J.C Penney, he's rooting for them, saying that he hopes they're successful after turning off a percentage of their costumer base and losing momentum.
As for the government, Buffett said that sequestration is stupid, because it was designed to be stupid. Buffett had a somewhat frustrated tone when referring to the disjointed and often times late night efforts of congress to pass legislation.
"Letting things like the sequester kick in, we deserve a better congress than that," said Buffett.
Later on in the morning, when Bill Gates arrived, he also agreed that equities are a good deal relative to bonds. But the market is a gamble, and many see issues due to high frequency trading. Gates said that buying and holding equity is the solution to the issue, simplifying the high frequency trading fear.
"The primary function of the market is to have people provide capitol to businesses, drive the evaluation of those businesses, and that works just fine without this high frequency or even day type trading," Gates said.
In regards to the profitability of technology, Gates provided the simple sentiment that if you have something to offer, you'll do well.
As far as the wealthy donating to global issues, Gates believes that people will give more in time to come and that philanthropy will improve, but he said that as far as the poorest countries go, it's governments that still give the most.
In regards to the online tax, Gates believes that the bill asking for online consumer taxes makes sense. He thinks that not asking for taxes is unfair to those with physical stores, and the revenue is good for state budgets is addition to overall fairness.
As far as his future as a board member of Berkshire Hathaway, Gates said he'll stay on the board long after Buffett's passing.
Posted-In: CNBC News Movers & Shakers Topics Hot Movers Tech Media Best of Benzinga
View Comments and Join the Discussion!