Doug Cutting and Mike Olson Discuss Cloudera's Supercomputing System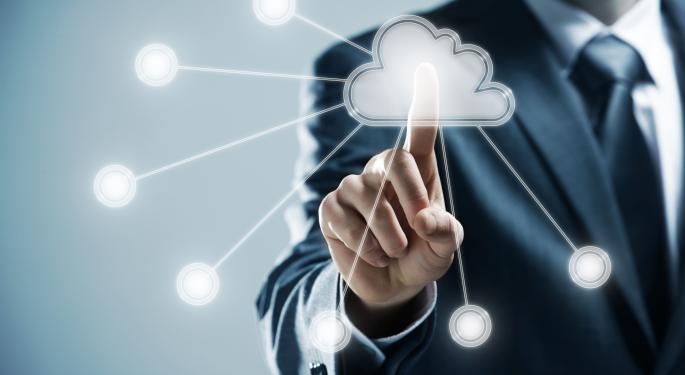 Doug Cutting, chief software architect at Cloudera, and Mike Olson, Cloudera's chief executive officer, appeared on CNBC's Squawk Box Thursday morning to talk about the company's impact and open source policy.
Cloudera uses storage and processing technologies to harness together the power of many computers into one big, supercomputer. Currently, they have tens of thousands of nodes under their belt. Within that network are many companies that cover various markets, from oil to financial services and many more.
"So you can load a lot more data onto it a lot more affordably, because you can take these affordable industry standard computers, rather than some exotic data center system, strap them all together, spread data across all of them and then process it very efficiently," said Cutting. "So it's really sort of bulk computing."
Unlike typical supercomputers, however, Cloudera is more data intensive rather than number intensive. The platform also relies heavily on being an open source platform.
"I think in the end, giving things away through open source, as a methodology, ends up delivering greater value, both to the economy as a whole as well as to the people who work on it," said Cutting. "That's really the trend we're seeing."
Cutting said that when you create more users collaborating together more freely on a platform, it spreads more quickly, which has been the case in the rapid growth of Cloudera.
"If it were a commercial product, it'd be, you wouldn't of heard of it," Said Cutting.
Cutting called Cloudera a general purpose technology that can get at problems that people couldn't get at before.
"We see adoption across financial services, Telco, retail, all the markets that need mission critical infrastructure technology," said Olson. "Sixty percent of all consumer debit transactions secured by Cloudera's platform, 80% of U.S. consumers credit card reports managed by Cloudera, 70% of all U.S. smartphone users touch a Cloudera platform in delivery of personalized data. These are mission critical applications for these business, transformative for the companies that do them, and they have gotten much harder because of the amount of data that the companies have to manage."
An added advantage of Cloudera is that if one or more computers goes down, it doesn't compromise the entire system. But within this innovation and greater connectivity, there are security risks. Cutting said that they spend a lot of time working on maintaining security. The ability to compartmentalize things within the system is part of that security. A lot of time is also spent making sure that the system operates securely.
Cutting also noted that every user has a responsibility to themselves, and both men agree that the value of Cloudera outweighs most security concerns.
"As a society, we need to develop guidelines that can handle these, and incorporate these new technologies, and I think we are," said Cutting.
Posted-In: ClouderaCNBC News Topics Hot Tech Media General Best of Benzinga
View Comments and Join the Discussion!