Shiller Calls The Renters' Market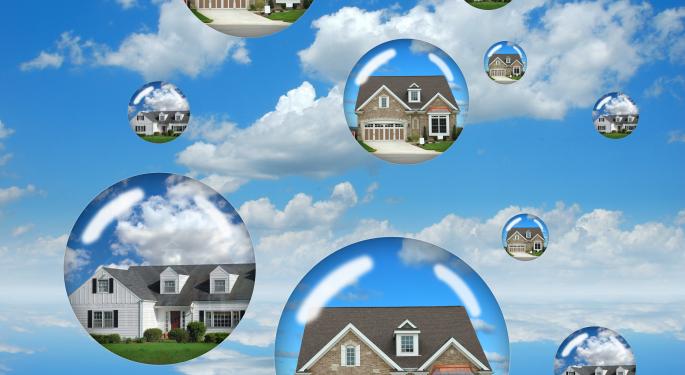 Robert Shiller, professor of economics at Yale and best-known as the founder of the S&P Case-Shiller Home Price Indices, talked on CNBC's Squawk Box Tuesday morning from Yale.
During the interview, Shiller addressed the predictions that he made in a recent New York Times (NYSE: NYT) op-ed on the housing market, in which he said that renting might be more appealing opposed to buying with those on the higher-end.
"I think that we were really strong on this American dream of five, ten years ago, and we're getting back to maybe a more normal. You know, this country hasn't been a country of homeowners all of the time. Renting works very well and it's a very sensible strategy for many people depending on your circumstances," said Shiller.
Shiller said that renting could be identified with high-status lifestyles in the new economy because it connotes mobility and freedom. He thinks that Manhattan is a great example of renting being positioned as a high-status lifestyle, and that exciting places will attract renters.
The homeowners' American dream that offers sprawling lawns and traditional-TV-family settings might be heading towards a more community orientated framing. According to Schiller, the lifestyle is simply in a degree of transformation .
Shiller said that people are changing their views on what's wise when it comes to homes.
"Why should we subsidize big houses? Is that the best thing to spend our money on?" said Shiller as a note on what's becoming common thinking.
An increase in this country's renters could also help reduce the economic stress of mortgage interest deductions, and the shift to a renter-based housing market could change the overall structure of mortgage interest deductions in the future.
"As far as structuring it. Well, one thing I think would be done, maybe, is to keep it for low-income or low-priced homes. So it doesn't reek hardship on lower, marginal housing. And it's especially important, by the way, that people who are struggling to achieve the American dream on a minimal status, that these people be helped, because they're the ones who are more vulnerable in their self-esteem," sad Shiller. "That's what it's about. It's self esteem and a sense of participation in our society, but I don't dismiss that. But I think that maybe we've overrated that, especially for higher-income people."
In the transition, however, not everything will be easy to rent out. Some houses owned now don't easily convert to rental properties, such as the remote suburbs of cities with bigger properties and houses. According to Shiller, they aren't as populate now. Where townhouse-type, connected communities are doing well, especially with retirees. But Shiller also doesn't think there should be too much concern for those who want those types of houses.
"You should buy the home you want, and not worry too much," Shiller said. 

If you are in the market for a home, it might be the best time you could possibly look.
"We set a record last week for the fifteen year low on mortgage rates. And I think people react especially to that kind of thing. Record low, they want to grab it. And sometimes, there's an immediate impulse on buying pressure," said Shiller. 


But according to Shiller, a home as a straight-out investment isn't the best bet. For investments, look to equities.


"If it's just as an investment, I would say the stock market…Stocks for the long-run, the two-century long history, shows a lot of good, amazingly good performance for stocks. Maybe it won't be that good in the future, but I'll bet it's better than housing," said Shiller.
Posted-In: CNBC CNBC CNBC Squawk Box Robert ShillerNews Topics Media General Best of Benzinga
View Comments and Join the Discussion!