Barron's Recap: India Is Open For Business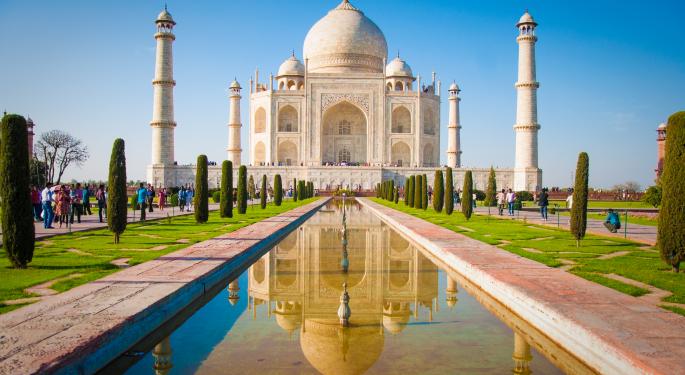 This weekend in Barron's online: where to invest in India, the Barron's 500, Carl Icahn takes on Warren Buffett, as well as the prospects for SunEdison, Regions Financial, Harsco and more.
Cover Story
"India: Open for Business" by Jonathan R. Laing.
India's likely new prime minister, Narendra Modi, is controversial, says this week's cover story in Barron's. But Modi also the nation's best shot at an economic turnaround. Some are comparing him to Ronald Reagan.
The article features six stocks and three funds that are poised to ride Modi's coattails after this big election.
See also: Doug Kass On Bubbles, Forecasting, Social Media And More
Feature Stories
Reshma Kapadia's "Where to Invest in India" offers a quick guide to a sometimes volatile market. See why investors building an India portfolio should stay focused on key themes, such as infrastructure or India's rising middle class.
"The Barron's 500" by Jacqueline Doherty presents the results of the annual ranking of companies with superior operating performance. Topping the list this year are Visa (NYSE: V) and Ecolab (NYSE: ECL). See why, and which other companies also topped the list.
In "Searching for Bargains Among the Barron's 500," Jacqueline Doherty points out that some of this year's cheapest stocks could be big winners in the months ahead. The past is prologue, so check out the article to see what's new.
Maker of silicon wafers SunEdison (NYSE: SUNE) is the focus of "Shining a Light on SunEdison's Growth Strategy" by Bill Alpert. See why the company is focused more on at-risk tax strategies than on organically growing its renewable-energy business.
"Pouring On the Southern Charm" by Lawrence C. Strauss makes the case that shares of Regions Financial (NYSE: RF), which has rebounded smartly from the credit crisis of five years ago, now look cheap as the economy in its key markets finally turns.
In Jack Hough's "The Many Ways to Tap the Water Boom," see how water scarcity means opportunities in everything from pumps and plumbing to sewage treatment. But be aware that even a sound case can be overvalued. Which ones should investors be looking at now?
As steel services and railroad infrastructure maintenance company Harsco (NYSE: HSC) digs out from some missteps made in the mid-2000s, its shares could rise 20 percent, according to David Englander's "This Overlooked Industrial Could Shine."
Leslie P. Norton's "Hunting for Value in a Pumped-Up Market" features an interview with stock pickers Douglas Chudy and David Dusenbury of a New York investment manager Dalton Greiner Hartman Maher. They discuss which stocks they currently like.
"DuPont's Ellen Kullman" by Sandra Ward turns the CEO spotlight on the head of the world's third largest chemical company. See how the financial crisis spurred her to reinvent the 212-year-old company -- and ultimately drive the stock price higher.
In "Slow and Steady" by Reshma Kapadia, John Rogers Jr., founder and CEO of Ariel Investments, is profiled. Rogers is a lover of undervalued, out-of-favor stocks, and he is in it for the long haul -- in terms of his investments and in changing the world.
Famed activist investor Carl Icahn explains why he strongly objects to Warren Buffett's abstention from a vote on the executive-pay plan at Coca-Cola (NYSE: KO) in "Why Buffett Is Wrong on Coke." See how the Oracle of Omaha responded.
"Advice From Our Northern Friends" is an editorial commentary by Thomas G. Donlan that discusses how Canada wants to make money by helping us make sense.
See also: Warren Buffett Is Good On IBM
Columns
Columns in this weekend's Barron's discuss:
What happens when the emerging markets economies go sour
A discordant note in the jobs report
Why the bull can keep kicking
Websites that let you invest like a billionaire
The latest data point on a strengthening U.S. recovery
Advantages to global dividend funds
ETF winners in a sluggish market
The dividend hikes of the past week
A review of Why Government Fails So Often
Whether Iceland should adopt the Canadian dollar as its currency
Keep up with all the latest breaking news and trading ideas by following us on Twitter.
Posted-In: Barron's Canada Carl Icahn Coca-cola DuPont EcolabPre-Market Outlook Media Best of Benzinga
View Comments and Join the Discussion!