Warren Buffett Has Been Consistent Over The Decades: Don't Bet Against America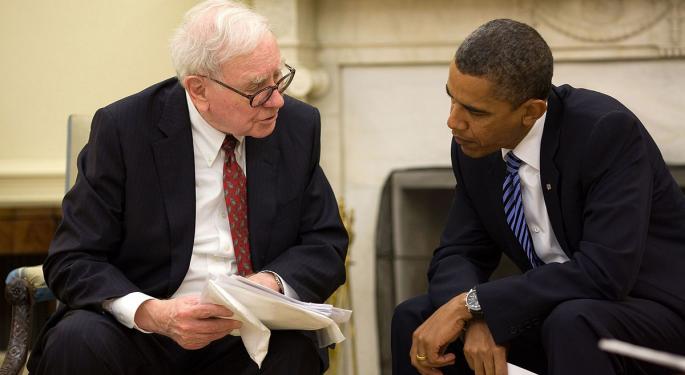 Billionaire investor Warren Buffett is a strong believer in America, Americans and especially American capitalism, and CNBC compiled his patriotic comments over the decades.
1997: America Stands Out In Innovation
When asked in 1997 if the "age of classical industrial America has passed," Buffett, CEO and chairman of Berkshire Hathaway Inc. (NYSE: BRK-A) (NYSE: BRK-B), said at its core the American economy encourages adaptation. The American economy stands out as being best able to adopt to what people want among global economies, he said.
2004: America Always Recovers
The early 2000s were a difficult time for America, highlighted by new wars, rising consumer debt and declining job growth. But as has been the case and always will be the case, America "will do very well" and businesses will continue to thrive, Buffett said in 2004.
"There will always problems in the future, there are always opportunities in the future," he said. "In this country, the opportunities have won out over the problems over time and will continue to do so absent weapons of mass distraction."
2009: America Works
While there are numerous problems in the "one world we got," there is no choice but to live with it, Buffett said in 2009. At that time the world was dealing with the impact of the devastating credit crisis, but one thing remained clear, Buffett said: "over time, people will live better and better" in America.
"We have a system that works," Buffett said. "It unleashes human potential."
2013: A Huge Advantage To Be Born In America
There is no denying the fact that being born in America has given Buffett a "huge, huge, huge advantage," he said in 2013. This concept holds true today, as Buffett said he envies the baby being born today in America, who is statistically the "luckiest baby to be born."
2016: Never Been Greater
President Donald Trump's campaign slogan of "Make America Great Again" got one thing wrong: America has "never been greater," Buffett said in 2016. Regardless of politics, now is the "best time to be alive in the history of the world and America will always get better," he said.
Related Links:
What Elon Musk, Jeff Bezos, Cornelius Vanderbilt And Others Have In Common
4 Takeaways From Berkshire Hathaway's Annual Meeting
Warren Buffett with former President Barack Obama. White House photo by Pete Souza.
Posted-In: America Americans CNBC Donald Trump USA Warren BuffettMedia Best of Benzinga
View Comments and Join the Discussion!