Budweiser To Rocket Barley Seeds To Space In Prep For Mars Brewery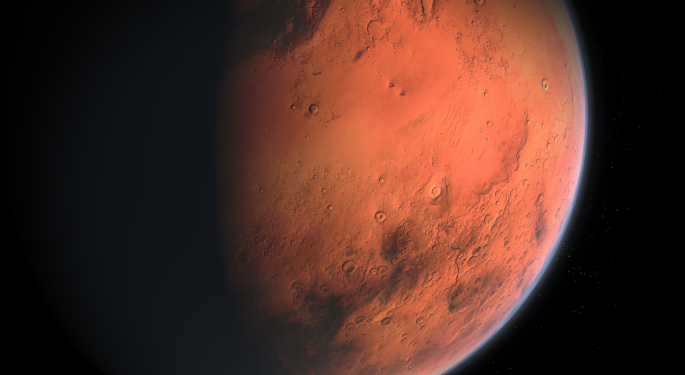 As previously announced, Anheuser Busch Inbev NV (ADR) (NYSE: BUD) aims to become the first beer on Mars and expand its market to infinity and beyond.
Now, the company is taking one small step toward its goal by launching 20 barley seeds Monday in a SpaceX cargo ship. The seeds will orbit earth for a month in the International Space Station before returning for analysis of germination in and effects of exposure to microgravity.
"We want to be part of the collective dream to get to Mars," Budweiser vice president Ricardo Marques told TIME. "While this may not be in the near future, we are starting that journey now so that when the dream of colonizing Mars becomes a reality, Budweiser will be there."
It's Worth A Shot
The feasibility of brewing — from crop growth to fermentation — is dubious considering the limited real estate of the International Space Station and gravity-dependent chemistry.
But the firm and its partners, Space Tango and the Center for the Advancement of Science in Space, believe the experiments are worth the time and space.
"Not only will the research offer insights on steps to creating beer on the Red Planet, but it could also provide valuable information on the production of barley and the larger agricultural community here on Earth," Anheuser-Busch said in a press release last week.
What's The Extraterrestrial Demand For Beer?
Unless we're counting aliens in total addressable market, it's zero. At least until Elon Musk comes through on his 2024 colonization.
But even when the interplanetary community emerges, beer isn't a surely preferred potable.
Anheuser Busch conceded that the beer drinking experience would undoubtedly be different in lower atmospheric pressures, from the muted sound of cracking the can to the loss of carbonation. On top of that, drinkers' sensory strength is compromised, limiting taste and making Budweiser no more palatable than water.
Wait a second ...
Related Links:
Major Players In Billionaire Space Race
Buzz Aldrin Wants Earthlings To Get Busy And Go To Mars, Joining The Likes Of Jeff Bezos And Elon Musk
View Comments and Join the Discussion!
Posted-In: Budweiser CASIS Elon Musk Mars Colonization Space Tango SpaceXMedia Best of Benzinga