Amazon Vs. The Department Store: The Battle Is Just Beginning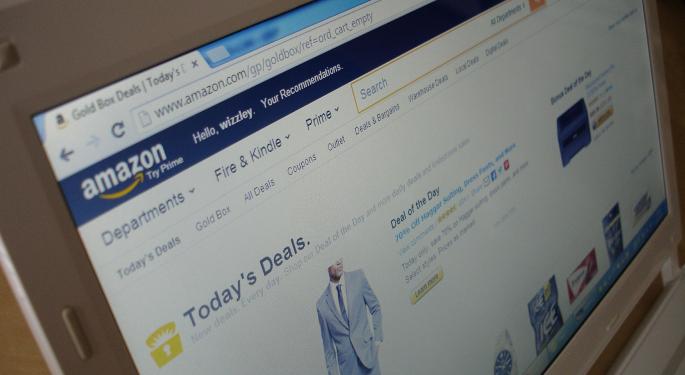 Many investors erroneously undervalue and underestimate just how big Amazon.com, Inc. (NASDAQ: AMZN)'s apparel sales are.
According to Gadfly's Shelly Banjo, Amazon first bought Zappos in 2009 and sold consumers basic apparel items such as t-shorts, leggings and jeans. Over the coming years, shoppers gravitated towards Amazon for clothes and apparel shopping to the point where Amazon's apparel and accessory product sales soared 87 percent last year from the year before and totaled $16.3 billion.
Amazon's $16.3 billion in apparel sales also happen to be more than the combined online sales of Macy's Inc (NYSE: M), Nordstrom, Inc. (NYSE: JWN),Kohl's Corporation (NYSE: KSS), Gap Inc (NYSE: GPS) and L Brands Inc (NYSE: LB).
Related Link: Mall Traffic Is Actually Increasing Among Teens, According To A Major Survey
Also, Amazon's total apparel sales is not too far off from Macy's $21 billion annual apparel sales in both its online and offline segments. It is, however, well short of Wal-Mart Stores, Inc. (NYSE: WMT) $24 billion in apparel sales - although Amazon may close the gap as Amazon is expected to triple its share of the U.S. apparel market over the next five years.
Amazon is "kissing the fashion industry's ring" to boost its market share. Specifically, the online retailer sponsored Men's Fashion Week in New York while Tokyo Fashion Week will be renamed Amazon Fashion Week Tokyo.
Meanwhile, U.S. department stores as a whole lost $660 million in sales during the second quarter when compared to a year ago. Banjo cited Morgan Stanley's analyst Kimberly Greenberger who estimated that department stores losses were Amazon's gains.
"But the biggest game-changer for Amazon is still unfolding," Banjo concluded. "With sales waning at department stores -- where many brands get the bulk of their revenue -- Amazon has more leverage than ever before to accelerate its moves into apparel. Talk about fast fashion.
View Comments and Join the Discussion!
Posted-In: Amazon Amazon Apparel Sales Bloomberg Gadfly Kimberly Greenberger Shelly Banjo ZapposMedia Best of Benzinga