PreMarket Prep Stock Of The Day: Simon Property Group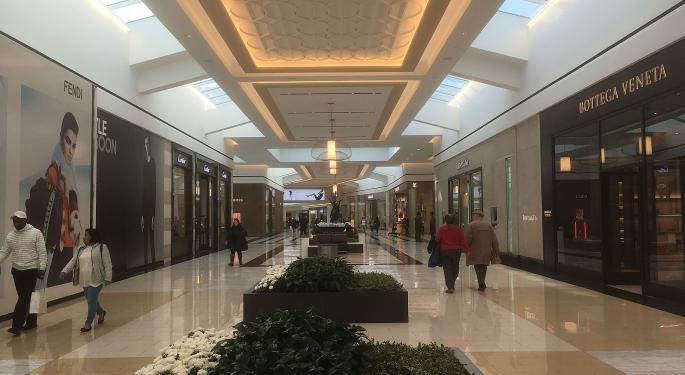 Benzinga's PreMarket Prep airs every morning from 8-9 a.m. ET. During that fast-paced, highly informative hour, traders and investors tune in to get the major news of the day, the catalysts behind those moves and the corresponding price action for the upcoming session.
On any given day, the show will cover at least 20 stocks determined by co-hosts Joel Elconin and Dennis Dick along with producer Spencer Israel.
For those who don't have the time to tune in live or listen to the podcast, Benzinga will highlight one stock that merits further discussion. This analysis is not a buy or sell recommendation.
The COVID-19 crisis has had a devastating effect on the retail industry, and especially on companies that rely on foot traffic. This would be most applicable to malls — gigantic structures that are expensive to operate and maintain.
The PreMarket Prep Stock of the Day, Simon Property Group (NYSE: SPG), is attempting to replace the big box stores that are leaving.
About Simon Property Group: Simon Property Group is an American commercial real estate company, the largest retail real estate investment trust and the largest shopping mall operator in the U.S. Its portfolio includes more than 325 properties that operate under five real estate platforms.
Simon On The Decline Before COVID-19: One of the first victims of the Amazon-ing of the world was large malls and subsequently their operators. When purchases could be made so easily online, the need for going to a mall or similar retail centers was no longer a necessity.
Along these lines, huge tenants such as Macy's (NYSE: M) and J C Penney Company Inc (Pink: JCPNQ) began to close stores as the business model came under siege, leaving large and unusable spaces in their wake.
Major Consolidation Period: As the coronavirus gripped the world, stay-at-home-polices were instituted and the markets began to crumble, Simon went along for the ride.
While the S&P 500 index fell 35% from peak to trough, Simon Property fell from its Feb. 21 high of $142.77 to $42.25 on April 2, or a decline of 70%.
The issue did manage to more than double in price from that depressed level when it peaked on June 9 at $90.32. Interestingly, that high came one day before it was announced that the company had terminated its deal to purchase Taubman Centers (NYSE: TCO).
Simon Property was unable to sustain the rally and did not find major buyers until it reached the $60 area, with multiple lows just above and below that area in late July and early August.
Until Monday, the issue was in a trading range between $59.03 and $67 beginning in early July, with a majority of the price acton taking place in the $62-$64.50 area.
If You Can't Beat Them, Join Them: Over the weekend, it was reported that Simon Property was looking at turning empty Sears and JCPenney stores into Amazon.com (NASDAQ: AMZN) fulfillment centers.
Investors seeking any type of good news on the issue are aggressively purchasing shares of the issue in Monday's session ahead of its second-quarter report after the close.
Simon's Premarket Price Action: The author of this article noticed the recent trading range and said on Monday's PreMarket Prep that if the issue could hold $65, the next daily resistance levels are at the pair of highs just under $67 from July 8 ($66.80) and July 15 ($66.72).
In a seesaw session, Simon Property dipped to $63.82 and then rallied to the $67 level. The stock was trading 8.53% higher to $67.40 at last check.
Simon Property Moving Forward: It's anyone's guess what Simon's second-quarter report will look like and how the Street will react.
From a fundamental standpoint, it is encouraging the company is making efforts to fill large mall vacancies. Yet the potential rent per square foot that Amazon will be demanding could be quite a bit lower than Simon's previous tenants.
The full discussion on the issue from today's show can be found here:
Photo by Dough4872 via Wikimedia.
View Comments and Join the Discussion!
Posted-In: PreMarket Prep retailREIT Technicals Trading Ideas Real Estate Best of Benzinga