Have We Seen The Market's Top?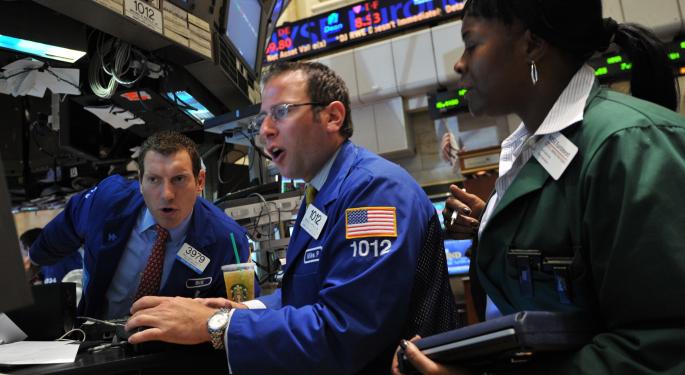 While the entire investment world is focused on the upcoming Apple Inc. (NASDAQ: AAPL) event, several concerning things are taking place during the early trading in Tuesday's session.
Long Consolidation Period
First of all, the long consolidation period at the psychologically important 2,000-level in September is poised to be resolved to downside. In an extremely rare technical formation, the index has posted several closes in a very small range.
Related Link: Wall Street Warms Up To FireEye Inc.
In fact, in eight of the last nine trading sessions, the index has closed between 1,996.75 and 2,001.50. The only outlier being its September 5 close of 2006. Interestingly, that level represents the index's all-time closing high price, as well as provided formidable resistance in Friday and Monday's sessions.
Tuesday's Weakness In Financials
Secondly, what wasn't covered by the mainstream media was the weakness in the financial sector in today's session. Several key issues in the sector opened lower and have continued to move in that direction.
Goldman Sachs (NYSE: GS), which has been flirting with a major breakout above the $180-level, opened at $2 and quickly shed another $1. Citigroup (NYSE: C), which reached a five-year high on Thursday of $52.88 has peeled back almost $2 from that level.
Oil Stocks Way Off All-Time-Highs
Thirdly, oil stocks, which were responsible for the last leg of the bull run and are considered to be the last ones to the party, have rolled over. Exxon Mobil (NYSE: XOM) has backed off $7 from its all-time high and is attempting to breach the downside of a month-long trading range ($97.50-$100).
Also, Chevron Corporation (NYSE: CVX) is $10 from its all-time high of $135.10 and is flirting with the lower-end of its month long trading range ($124.50-$130.00).
Small-Caps Fail To Confirm New Highs
For a longer term perspective, the small cap index, or Russell 2000, so far has failed to confirm the move to new highs. The index, which peaked in July at $120, has barely been able to reach $118 and is bearing down at the support at the $115.50 level.
Recent Rally Led By Volatile Momentum Stocks
Another concerning factor is the much of the push to 2,000 was spearheaded by the momentum stocks such as Facebook (NASDAQ: FB), Twitter (NYSE: TWTR), Tesla (NASDAQ: TSLA) and Netflix (NASDAQ: NFLX).
Related Link: Is RadioShack Really Coming Back?
Weeks and months of hard-fought gains, however, can disappear in the matter of a few trading sessions. On the other hand, former Wall Street darling, Pricline (NASDQ: PCLN) has tanked off its latest earnings and must retake the $1,200 level to prevent another leg down to $1100.
Biotech Stocks Retreat From Highs
Along these lines, biotech darling Gilead Sciences (NASDAQ: GILD) declined a quick $9 in Friday's session, erasing its gains from the last month. However, it should be noted the issue has recovered. It is attempting the clear the major resistance at the $107-level and return to new all-time highs.
The leader in the sector, Biogen Idec (NASDAQ: BIIB), retreated from its all time high of $349.00, but has not been as quick to rebound from its recent decline.
Geopolitical Risks Still Persist
Most importantly, geopolitical concerns that have persisted for quite some time have not been resolved. The supposed cease-fire between Ukraine and Russia is tenuous at best, and threat of a war in that region has not been eliminated.
The conflict with ISIS has not been dealt with in a speedy fashion, and the longer it goes on, the more of a call for troops on the ground will be considered.
Seasonal Patterns, 9/11 And October Stock Market Crashes
Seasonal patterns in the market, as well as the memories of 9/11, are two other negative factors that may ignite a market decline. After a surprisingly strong August, the indexes may find willing sellers throughout September and October.
Also, the quadruple with an expiration next week often signals a reversal of short- and long-term trends.
Buy-The-Dippers Will Not Give In
But as usual, the buy-the-dippers have come to rescue and provide support to the index. They put in place a tradeable low of 1989.50 ahead of Friday's major support level of 1988.25.
For now, that crowd has been rewarded for sticking with the trend and will certainly will make another attempt to foster further gains with a move above the all-time high of 2011.
Key Technical Levels
A resolution to this nauseating trade range is on the horizon. The bulls will patiently wait for the market to grind higher and make a new all-time high.
The bears will be doing their best to nudge the index below Friday's low (1,987.50) and reclaim a portion of the 120-point rally that took place August 8 through September 3.
Posted-In: geopoliticalFutures Technicals Movers & Shakers Intraday Update Markets Trading Ideas General Best of Benzinga
View Comments and Join the Discussion!