Brazil's Decline To Take A Big Toll On The Argentine Economy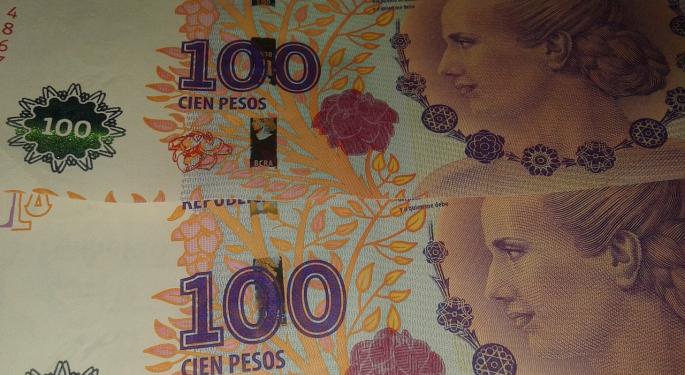 Brazil's largest commercial partner in South America, Argentina, is expected to feel the impact of its neighbor's credit rating downgrade.
Some economists believe Argentina needs to devalue its currency to catch up with Brazil.
U.S.-listed Argentine stocks are reacting negatively to this situation.
Last week, Standard & Poor's downgraded Brazil's sovereign credit rating to BB+ – or "junk," and the situation worried not only its creditors and investors, but also its trade partners.
The country's largest commercial partner in South America, Argentina, is now expecting to see its competitiveness and exports (especially in industrial sector) decline considerably.
In an article published Tuesday, Spanish site elEconomista.es explained how the Brazilian crisis impacts neighboring Argentina (also among the 25 largest economies in the world).
Brazil's decline will take a big toll on Argentine industry in particular, research firm Economía & Regiones warned. The fear is that a lower real will lead to a reduction in Argentina's competitiveness, and thus, to a tumble in Brazil's demand. It should be noted that Brazil constitutes Argentina's main exports market.
Related Link: Brazil's Country-Specific Risk Surges To 8-Year High, Closing Gap With Argentina
In fact, the effects of the crisis in Brazil are already being felt in Argentina. As of the end of August, Argentine sales to Brazil have fallen 22.6 percent year-over-year; on the other hand, Brazilian exports to Argentina fell 11.3 percent.
The article cited above shared the aftermath of the situation: Argentina has already accumulated a deficit of $1.488 billion – and the figure could reach $2 billion, private calculations suggest.
Most Affected Exports
The note then looked into the most affected sectors. "Given than seven out of each 10 Dollars that Argentina exports to Brazil come from industrial goods," the industrial sector will receive the largest blow.
The biggest loser so far has be the auto industry, which has already had to cut workforces considerably.
Author Natalia Kidd continued to expound, "The devaluation and reduced international financing will drive down the levels of activity and consumption in the Brazilian economy."
Expert Miguel Ángel Boggiano added, "The loss of the 'investment grade' could lead to a 'waterfall' of Brazilian debt securities sales, pushing 'the price of the Real even lower.'"
"We [Argentina] are simply becoming more expensive for Brazil," Boggiano continued. In fact, he estimated that, considering how the real and the Argentine peso are evolving and the inflation levels in both counties, the latter is far from closing the currency valuation gap with Brazil. According to his calculations, one U.S. dollar should equate to 17.25 pesos, and not to the 9.35 pesos it is currently worth.
How Stocks Are Reacting
Here's how some U.S.-listed Argentine stocks are reacting to the situation.
Shares of YPF SA (ADR) (NYSE: YPF) are down 2.2 percent on Tuesday, and 23.2 percent year-to-date.
Petrobras Argentina SA ADR (NYSE: PZE) lost more than 0.5 percent on Tuesday, but is still up 9.9 percent since the beginning of the year.
Ternium SA (ADR) (NYSE: TX) fell more than 0.4 percent on Tuesday and 21.7 percent since January.
Image Credit: Public Domain
Posted-In: argentina brazil Miguel Ángel Boggiano Natalia Kidd S&PEmerging Markets Forex Markets
View Comments and Join the Discussion!