COOL MARA RIOT: The Big Money, Biotech-Bitcoin Daisy Chain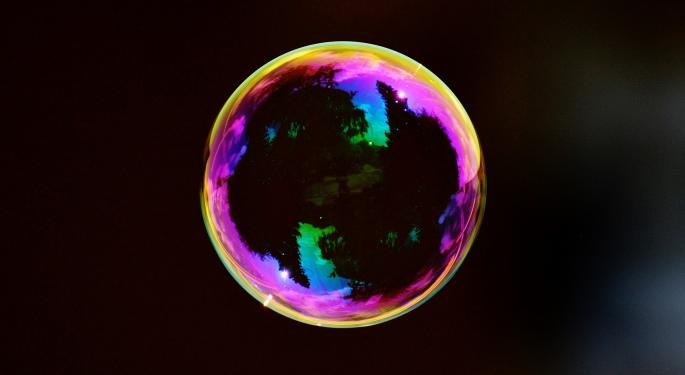 EDITOR'S NOTE: The following is an excerpt from an article originally published on Sharesleuth.com in July into financier Barry Honig and several associated parties. On Friday, an SEC complaint alleged Honig is at the center of 'Pump-and-dump' schemes related to Opko Health and several other companies.
Part of Sharesleuth's original investigation is republished here with permission, with part 2 coming next week. For the full investigation, click here.
Jim McNair contributed to this report
Three companies whose stock made big moves last year are linked by undisclosed relationships that raise numerous red flags about the deals that helped attract investors, boost share prices, and enrich certain players.
A Sharesleuth investigation found that financier Barry C. Honig and a handful of associates sold at least $70 million of stock in those companies -- Polarityte Inc (NASDAQ: COOL), Marathon Patent Group Inc. (NASDAQ: MARA), and Riot Blockchain Inc. (NASDAQ: RIOT) –- as their share prices rose by triple digits, then tumbled from those highs.
The companies, by comparison, had less than $1 million in combined revenue in fiscal 2017, and $180 million in losses. Our investigation found that surges in their share prices were aided by a daisy chain of deals involving Honig and a recurring cast of business partners and investors. They included John R. Stetson, PolarityTE's executive vice president and chief investment officer; John R. O'Rourke III, Riot Blockchain's chairman and chief executive, and Mark E. Groussman, who once headed Marathon Patent's predecessor and was a large shareholder in all three companies.
Our investigation found that Honig personally sold at least $30 million of stock in PolarityTE and Riot Blockchain from late August to mid-December without reporting those sales, as required under Securities and Exchange Commission rules for non-passive investors who own 5 percent or more of a company's shares.
We found that Honig and his associates stood to receive more than $40 million in new shares through the acquisition of two bitcoin companies in which they had undisclosed stakes. The largest of those deals was canceled in late June.
Our analysis of SEC filings and other documents found that:
-- Honig and his associates were among the biggest investors in Riot Blockchain, Marathon Patent AND two new bitcoin companies they agreed to acquire for stock initially valued at $197 million. Those deals were struck on consecutive days in early November. Honig's network was to get more than half of the shares to be issued for the bitcoin companies, which had little if any, revenue and modest assets. Their presence on both sides of the deals was not disclosed at the time and has not been fully explained since.
-- A limited partnership headed by O'Rourke provided $5.3 million in financing to Marathon Patent in August and September, in return for convertible notes and warrants. It wound up with the equivalent of 11.8 million shares, which soared in value after Marathon Patent said it was getting into the cryptocurrency game by merging with one of the bitcoin companies, Global Bit Ventures Inc. The closing of that deal was delayed repeatedly, and Marathon Patent announced on June 28 that it had decided to walk away. Our analysis suggests that Revere already had sold at least 3.6 million of its shares, some during last November's surge. We estimate that the proceeds were around $13.9 million. The rest of the stock would be worth $6.7 million at the current market price, although it's possible that some of those shares have been sold as well. SEC filings show that more than 8 million of the 11.8 million shares -- or nearly 40 percent of Marathon Patent's total outstanding -- have been issued to Revere or other unknown parties. Revere has not filed a Form 13D or Form 13G reporting ownership of those securities, nor has anyone else.
-- Honig and a limited liability company managed by Stetson provide cash to Global Bit Ventures in September, in return for convertible notes. That was less than six weeks before Marathon Patent finalized the merger agreement. A later SEC filing showed that the notes somehow found their way to a second limited liability company, managed by O'Rourke. That entity also had preferred stock in Global Bit Ventures and stood to receive 20.5 million of the 70 million shares that were to be issued to the bitcoin company's investors. Its stake would have been worth $17.5 million at the current market price.
-- Honig, Groussman and another longtime associate, Michael H. Brauser, were shareholders in Kairos Global Technology Inc., the bitcoin miner that Riot Blockchain bought on Nov. 1 for roughly $12 million. Kairos' owners exchanged their 1.75 million shares of common stock for 1.75 million shares of Riot Blockchain's convertible preferred stock valued at $6.80 a share. Honig, Groussman, Brauser and two other large Riot Blockchain shareholders owned more than 50 percent of Kairos. Riot Blockchain did not disclose that cross-ownership at the time of the deal. We found that Honig, Groussman and the other investors had purchased their Kairos stock just a day or two before the acquisition. A financial statement in a January SEC filing showed that Kairos sold 750,000 shares for 10 cents a share on Oct. 30 and 1 million shares for $3.10 on Oct. 31.
-- Honig, Stetson, Groussman, Brauser and Honig's brother, Jonathan, are shareholders of Coinsquare, a digital-currency exchange in Toronto. Riot Blockchain invested $3 million in Coinsquare in late September, and put an additional $6.4 million into the company earlier this year. Barry Honig told Sharesleuth that he and the others invested in Coinsquare alongside Riot Blockchain in September. The Honig brothers, Stetson and Groussman controlled 40 percent of Riot Blockchain, on a fully diluted basis, at the time. The company did not disclose that cross-ownership or mutual investment in its SEC filing on the deal, nor has it clearly disclosed that in subsequent filings. The chart we found listing individual shareholdings was in a linked document at the bottom of an amended 8-k filing.
-- Jesse Sutton, the original head of Global Bit Ventures, once was chief executive of PolarityTE's predecessor, Majesco Entertainment Inc. Honig later took over as CEO of Majesco. Sutton's LinkedIn.com profile lists him as an advisor to MUNDOmedia Ltd., a digital advertising company in Toronto that counts Barry Honig, Stetson, O'Rourke, Groussman and Jonathan Honig among its shareholders. We found that others connected to MUNDOmedia owned significant stakes in Global Bit Ventures, Kairos, and Coinsquare. Some were investors in Riot Blockchain and PolarityTE as well.
--Jason Theofilos, MUNDOmedia's chief executive, is a director and large shareholder of Coinsquare, and is the co-founder of a third company called Alchimista Inc. SEC filings show that Global Bit Ventures procured its bitcoin-mining equipment from an affiliate of Alchimista for $6 million in convertible notes. Alchimista was to receive 19 million Marathon Patent shares through the Global Bit Ventures acquisition. Those shares would have been worth $16.7 million at the current market price.
-- PolarityTE, Marathon Patent and Riot Blockchain entered into numerous exchange or modification agreements on their preferred stock, convertible note, and warrants. Those moves mainly benefitted Honig and his associates. On at least four occasions, PolarityTE and Marathon Patent took back warrants that could not be exercised at a profit and replaced them with common stock. Last summer, Marathon Patent agreed to replace out-of-the-money warrants issued in April with nearly 600,000 common shares. A registration statement filed in September showed that the investment funds that held two-thirds of the warrants sold them to Groussman and to Jonathan Honig's father-in-law. The shares issued in their place could have been sold for more than $600,000 in October, or $1.5 million or more when Marathon Patent's stock price spiked in late November.
-- PolarityTE failed to disclose that the U.S. Patent and Trademark Office had issued a preliminary rejection of the company's main patent application on March 31, 2017, and issued a final rejection in early June. The preliminary rejection was entered in the patent office docket five days before PolarityTE went public through its reverse merger with Majesco. The final rejection was entered on June 4, the day before PolarityTE announced a public offering of up to $55 million in stock. The offering was completed on June 7. The week before that patent notice, PolarityTE filed a registration statement covering the sale of as many as 7.3 million shares – worth upwards of $190 million at the time – held by current and former officers, directors and employees, including Honig, Stetson, and Brauser. Most of the shares became eligible for sale upon the date of that filing.
-- Honig has asserted that he, Stetson and O'Rourke operate independently as investors. However, we found that all three, plus Groussman, once were listed as principals of a private equity firm called 1st Look LP. Delaware corporation records show that the firm and a related entity, 1st Look Management LLC, were incorporated in June 2014. 1st Look Management submitted an SEC filing for an unregistered securities offering in October 2015. Both were reclassified as "not in good standing" with the Delaware Corporate Commission in June 2016. Honig said 1st Look never engaged in any business.
The relationships and transactions outlined above raise questions about possible disclosure violations, conflicts of interest and breaches of fiduciary duty.
Here is a chart showing some of the overlaps between shareholders of Riot Blockchain, Marathon Patent, the bitcoin-mining companies they agreed to acquire, and other businesses in which the key players had financial stakes:
Shares of Riot Blockchain are down 88 percent from its 2017 highs. Shares of Marathon Patent are down more than 90 percent, and shares of PolarityTE were off almost 50 percent but have since risen 66 percent. The price fell sharply again on June 25, after Citron Research posted a report calling the company a "fraud.'' That was based mainly on its failure to disclose that the U.S. Patent and Trademark Office had issued the rejection notices on the application at the heart of the company's $100 million-plus reverse merger.
Honig's Hidden Sales
We found that Honig sold nearly all of his Riot Blockchain stock last October and November, shortly after its investments in Coinsquare and Kairos, the two cryptocurrency companies in which he had undisclosed stakes.
Ordinary investors had no inkling of those sales, which generated more than $17 million.
Honig filed a belated Form 13D with the SEC in mid-April, updating his previously disclosed 11 percent stake in Riot Blockchain. It revealed that he sold 1.5 million shares from Oct. 4 through Nov. 30.
We also found that roughly 609,000 of the shares that PolarityTE listed for Honig in its definitive 2017 proxy filing disappeared from Sept. 1 to mid-December. We based that number on an apples-to-apples comparison of the common and preferred shares listed in the proxy filing and the amended Form 13D filing that Honig filed on Feb. 14.
If Honig sold that missing stock for $25 a share, a little below the average closing price for that period, he would have collected more than $15 million.
Even after the sales, Honig remained PolarityTE's second-biggest shareholder. An SEC filing he submitted in March listed him with 1.75 million shares, worth $45 million as of July 12.
Honig told Sharesleuth that he was not required to report all of his periodic sales. However, SEC regulations for Form 13D filers say material changes in beneficial ownership should be reported promptly.
PolarityTE Employees Cashing Out?
PolarityTE's filed a registration statement on May 29 covering 7.3 million shares that were issued or might be issued, to current or former officers, directors, and employees under its 2017 equity incentive plan. The registration showed that Honig was offering to sell 125,000 additional shares, which had a market value of more than $3 million at that time. He was granted those shares in February 2017, just before he stepped down as chief executive of Majesco Entertainment. It became PolarityTE two months later.
Stetson was offering to sell 457,500 shares or more than three-quarters of his holdings. They had a market value of more than $11 million at the time.
PolarityTE's chief executive, Dr. Denver Lough, was offering to sell 1.4 million of his 8.45 million shares. They had a market value of $36 million. However, Lough later agreed to a six-month lockup on his stock as part of the company's share placements.
PolarityTE's chief operating officer, Dr. Edward Swanson, was offering to sell all of his stock – 945,000 shares with a market value of $24 million at the time. More than 80 other employees and outside advisors, including other high-level executives and members of the company's board of directors, also were offering to sell all of their stock.
PolarityTE said in its latest quarterly SEC filing that it had $3,000 in revenue for the three months that ended April 30. It had a net loss of $19.2 million. More than $7 million of that was attributable to the revised terms on a preferred stock placement.
Honig bought nearly half of that stock. Groussman also participated in the placement.
PolarityTE had $16,000 in revenue for the first half of its fiscal year and a net loss of $34.4 million.
The company's stock hit a new high of $41.22 on June 21. That was two trading days before Citron Research posted its report. PolarityTE responded to that report in a conference call arranged by an investment bank, and through a press release. Its chief intellectual property officer said in the conference call that the "final rejection" listed on the patent office docket is not actually final and that the company has as many as 90 days to respond with additional information. She also noted that it has two similar patent applications still pending before the government.
PolarityTE said that no current officers or directors had sold stock following the filing of the registration statement. Its shares closed Wednesday at $25.85, giving the company a market valuation of $536 million, down from a peak of $855 million in June.
PolarityTE did not respond to a list of questions submitted by Sharesleuth.
SEC Investigations
Honig figures into at least three SEC investigations involving other companies he helped create: They are MGT Capital Investments Inc. (OTC: MGTI); Cocrystal Pharma Inc. (NASDAQ: COCP); and Mabvax Therapeutics Holdings Inc. (NASDAQ: MBVX). Subpoenas issued in the MGT Capital and Cocrystal cases sought information about Honig, Stetson, O'Rourke, Groussman, Brauser and certain investment vehicles and charitable foundations they control.
Riot Blockchain disclosed in May that it, too, was the subject of an SEC investigation. It is unclear from the company's description of that probe whether it extended to Honig and his associates.
However, the company said in a filing on Aug. 14 that the SEC's areas of interest include its investment in Coinsquare, and the registration statements it filed in July 2017 and January 2018, covering the sale of shares by insiders and by participants in its $37 million share placement last December.
Mabvax said in a June filing that it appeared the SEC was investigating "potential violations by multiple holders of our preferred stock," including the circumstances under which they invested, whether they acted as a group, and whether they sought to control or influence the company and its management. Mabvax also said that its financial statements from 2014 to the present should no longer be relied upon.
Mabvax's stock was delisted from the Nasdaq on July 5, and now trades on the Over the Counter Market.
Registration statements from last fall show that the biggest holders of Mabvax's preferred stock were Honig, Stetson, Brauser and Dr. Philip Frost, chairman and chief executive of Opko Health Inc. (NASDAQ: OPK). Opko, a Miami-based medical products company, also was a large holder.
SEC filings show that three of those same investors -- Honig, Brauser, and Frost -- were the biggest holders of Majesco's preferred stock prior to the merger with PolarityTE. They ranked second, third and fourth afterward. Groussman ranked as the fifth-biggest holder, owning five different classes of PolarityTE's preferred stock.
Frost has invested in dozens of the companies that Honig has helped bring public, including Marathon Patent and Cocrystal, previously known as BioZone Pharmaceuticals Inc.
Our analysis found that Frost sold more than $6 million in PolarityTE stock last year. Those sales were properly disclosed, through an annual update to his original Form 13G filing.
Sharesleuth showed in a report earlier this year how a network of writers, some real and some fake, systematically posted nearly 600 bullish stories about Honig-backed companies on various financial sites.
Those "stealth promotion" articles included at least 90 pieces on PolarityTE, Marathon Patent, Riot Blockchain, Mabvax and the two other companies that now are involved in SEC investigations. That touting went as far back as 2013.
Many of those stories coincided with paid promotional campaigns, capital raises, mergers and acquisitions and other potential market-moving events. Those tout stories have ceased since we published our findings.
For the full investigation, click here.
Disclosure: Chris Carey, editor of Sharesleuth.com, does not invest in individual stocks and has no position in any of the companies mentioned in this story. Mark Cuban, owner of Sharesleuth.com LLC, has short positions in PolarityTE and Opko.
The preceding article is from one of our external contributors. It does not represent the opinion of Benzinga and has not been edited.
Posted-In: Cryptocurrency Government News Short Sellers Financing Legal Management Insider Trades Best of Benzinga
View Comments and Join the Discussion!