Delivering Alpha 2018: Everything You Need To Know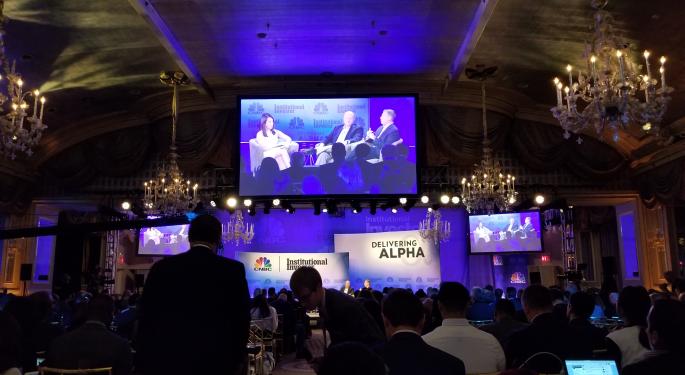 The Delivering Alpha 2018 conference took place Wednesday in New York, and this year's event included a number of Wall Street heavy-hitters.
Benzinga Pro reported live from Delivering Alpha all day long, and Benzinga Pro subscribers have followed all the action in real time using the keyword "Delivering Alpha" in the Newsfeed.
Here's a rundown of some of the major headlines you may have missed.
Citadel's Ken Griffin said he's anticipating two more interest rate hikes in 2018. He also blasted cryptocurrencies, saying he hasn't heard of a single portfolio manager who is bullish on cryptos. He called cryptocurrencies "just hype" and suggested they're a solution in search of a problem.
Greenhaven Associates' Edgar Wachenheim is bullish on Goldman Sachs Group Inc (NYSE: GS) and sees more than 70 percent upside for the stock by 2021. Wachenheim also likes Ford Motor Company (NYSE: F), Citigroup Inc (NYSE: C), Lennar Corporation (NYSE: LEN) and D.R. Horton Inc (NYSE: DHI) and said Citi stock could react $130 by 2021.
Blackstone's Jonathan Gray said geopolitical issues such as NAFTA and the China and E.U. trade wars will soon be resolved, but he doesn't know exactly when. Instead, he says investors should focus on the U.S. economy, which is stronger than many investors seem to realize. Gray said Blackstone is invested heavily in the U.K. and the Spanish housing market. In addition, the firm is buying warehouse space due to the secular online shift in retail and the long-term demand for infrastructure to support e-commerce.
Atlantic Investment Management's Alex Roepers is bullish on Huntsman Corporation (NYSE: HUN) and said he likes the company strong cash flow and healthy balance sheet.
Kynikos' Jim Chanos said it's a great time to be a short seller and focused his negative commentary on MEDNAX Inc (NYSE: MD) and Envision Healthcare Corp (NYSE: EVHC). He said the two companies aren't businesses and are simply playing an employment accounting game in which they need to keep financing up to keep their operations running.
Carlyle's David Rubenstein said trade war tariffs aren't having any discernible impact on the U.S. economy up to this point and he sees no evidence of a potential economic slowdown in the works.
Margate Capital's Samantha Greenberg said Take-Two Interactive Software (NASDAQ: TTWO) is a potential take-out target due to its cash flow and the stock's upside outweighs its downside by three-to-one.
Related Links:
Digesting Delivering Alpha 2017: The Top Picks You Need To Know
View Comments and Join the Discussion!
Posted-In: Cryptocurrency News Short Sellers Hedge Funds Events Top Stories Markets Trading Ideas Best of Benzinga