Secretary Of State Mike Pompeo Talks Importance Of Exports, Hope For NAFTA Deals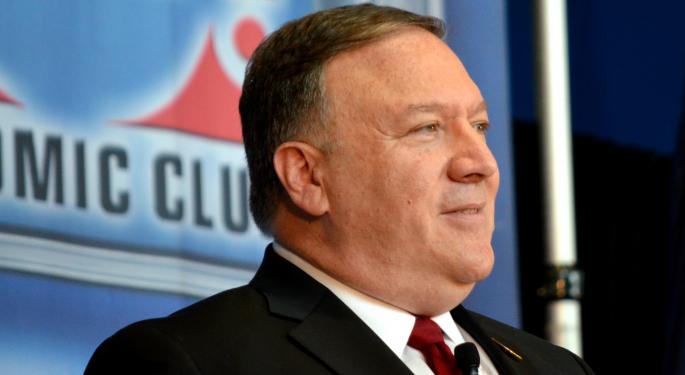 Secretary of State Mike Pompeo has far more on his plate than abandoned Iran deals and tentative truces with North Korea.
As Pompeo engages the international community, he's stealing over-the-shoulder glances at the domestic economy.
"For us to achieve our foreign policy goals, we need strength here at home," he said at a Monday meeting of the Detroit Economic Club. "Striving communities like here in Detroit are true force multipliers for us all across the globe. Strength abroad is impossible without strength at home."
Pompeo echoed President Donald Trump's perspective that economic diplomacy strengthens national security and alliances.
"That economic might is one of the most important tools, it's one of the biggest pieces of street cred that I have as I travel the world," Pompeo said. "Without it, I'd have much less leverage. It allows us to galvanize our allies toward shared goals and uphold our commitments to them."
Economic Diplomacy
Since the State Department leans on U.S. economic power and influence as a policy tool, it embraces the mission of helping local industries perform, Pompeo said.
"If you all don't have the ability to sell goods abroad and to purchase components from abroad, as well, that [job] growth will diminish, and we simply cannot let that happen."
State Department priorities include maintaining American economic sovereignty and ensuring markets are open to U.S. goods, the It builds relationships that create jobs and enable the department to "call out unfair economic behaviors" and break down barriers to market entry.
"If the U.S. government does not participate in robust international economic engagement, we will lose out to places like China," the Trump Cabinet member said. "But we can never lose our economic sovereignty in doing so."
Pompeo's department also works to attract international investment in the U.S. from places like Saudi Arabia; protect intangible U.S. property; and capitalize on U.S. energy resources and sell at competitive prices, he said.
"Increasing our [natural resource] exports is central to our security," Pompeo said. "If we can export to Europe, we put Russia on its back foot. If we can export to Asia, we can do the same with China."
On Global Affairs
Considering the nature of Pompeo's mission, aggravating trade allies isn't exactly helpful — but he said he supports reevaluation of trade deals and expressed no concern for Trump's isolating tactics.
"Our relationships are not solely defined by trade," he said. "I'm very confident that, when these trade negotiations are completed, the historic relationships between the United States and Canada and the United States and our European partners will continue the way they have for the last 70-odd years."
He said he is "hopeful" for NAFTA agreements to be announced in the coming weeks that will be good for all three parties and the global economy.
"I'm convinced when the trade negotiations are complete there will be more volume, more dollars and greater freedom of trade between the United States and Canada," Pompeo said. " ... I'd say the same for Europe and Mexico, too."
China earned a different tone, though. Pompeo defended Trump's tariffs on Chinese goods and berated the country for "committing outright theft" and an "unprecedented level of larceny" in cyber and intellectual property.
"It's the most predatory economic government that operates against of the rest of the world today."
On North Korea
The U.S. and China are said to be on the same page on at least one matter: North Korea. Russia and China are "fully onboard" with U.S.-North Korea diplomatic efforts, Pompeo said, and "excited" by the opportunity to diminish the threat of their mutual neighbor.
"We have now set the conditions where the North Korean people can also have economic success," Pompeo said.
While it's "hard to know" if the U.S. and North Korea will need another summit, he is certain much work remains to be done, including fleshing out details underlying the commitments made in Singapore and making good on Trump's commitment to alter the armistice agreement with security assurances for Chairman Kim Jong Un.
On Africa
The State Department anticipates significant economic opportunity in Africa, particularly with the laying of building blocks for a Western growth model: "the rule of law, property rights [and] the central understandings of how economic growth takes place," Pompeo said.
U.S. involvement should encourage African countries to align their interests with those of the West and thereby drive returns on related investments, Pompeo said.
Related Links:
Eli Lilly CEO Calls For Uniform Prices, Better Use Of Technology In Health Care
Wells Fargo CEO Tim Sloan Discusses Raise, Auto Sanctions, Dodd-Frank Rollback In Detroit Visit
Secretary of State Mike Pompeo speaks to the Detroit Economic Club at Ford Field on Monday, June 18.
Posted-In: Detroit Economic Club Mike PompeoNews Politics Top Stories Markets General Best of Benzinga
View Comments and Join the Discussion!