Today In Cryptocurrency: Coinbase Adds Ethereum Classic, Researchers Find Major Crypto Market Manipulation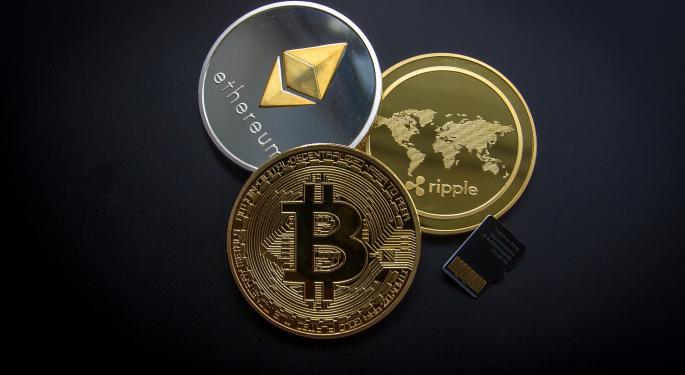 The cryptocurrency market continued its sell-off on Wednesday, with most major cryptocurrencies trading down more than 4 percent on the day. Here's a look at some of the headlines that were moving the cryptocurrency market today — and which currencies were on the move.
Headlines
A new report by the University of Texas suggests more than half of bitcoin's massive price move in 2017 was the result of large-scale price manipulation. Researchers found that large quantities of tether, which is supposedly tied to the U.S. dollar, was issued and used to support bitcoin prices during 2017 pullbacks. The report found that about 1 percent of heavy tether trading was responsible for about 50 percent of bitcoin's 2017 gains and about 64 percent of gains in other major cryptocurrencies.
The largest cryptocurrency exchange, Coinbase, has added Ethereum Classic to its platform. Some traders were puzzled by the decision to add the much smaller Ethereum Classic ahead of more valuable currencies such as Ripple and EOS, but Coinbase said the decision was made based on Ethereum Classic's compliance with local laws and said more currency additions are coming in the future.
Cryptocurrency skeptics who are worried that a potential collapse of the crypto market could drag down the financial system got some good news after the German government said crypto trading volumes are too low to pose a serious threat to the financial system. Germany is working on a report due out next year that will assess how much the cryptocurrency market is contributing to illegal activities such as money laundering, online gambling and terrorist financing.
Price Action
The Bitcoin Investment Trust (OTC: GBTC) traded at $10.57, down 6.3 percent.
Here's how several top crypto investments fared Wednesday. Prices are as of 3:45 p.m. ET and reflect the previous 24 hours.
Bitcoin declined 4.2 percent to $6,359;
Ethereum declined 5.8 percent to $473;
Ripple declined 6.7 percent to 52 cents;
Bitcoin Cash declined 5.5 percent to $833;
EOS declined 4.5 percent to $9.94.
The three cryptocurrencies with at least $1-million market caps that have made the biggest gains over the past 24 hours are:
MaxCoin: $5.6-million market cap, 28.1-percent gain.
Sumokoin: $1.6-million market cap, 14.7-percent gain.
DeviantCoin: $6.7-million market cap, 13.3-percent gain.
The three cryptocurrencies hit hardest in the past 24 hours were:
CHIPS: $1.3-million market cap, 70.8-percent decline.
SmileyCoin: $1.3-million market cap, 42.4-percent decline.
Jiyo: $1.1-million market cap, 36.4-percent decline.
Related Links:
Today In Cryptocurrency: Wells Fargo Bans Crypto Credit Card Purchases, Women Remain Skeptical Of Crypto
Buy, Sell Or HODL? This Bull Thinks 'Bitcoin Is Just Getting Warmed Up'
Posted-In: Bitcoin Coinbase EthereumCryptocurrency News Top Stories After-Hours Center Markets Best of Benzinga
View Comments and Join the Discussion!