Today In Cryptocurrency: Wells Fargo Bans Crypto Credit Card Purchases, Women Remain Skeptical Of Crypto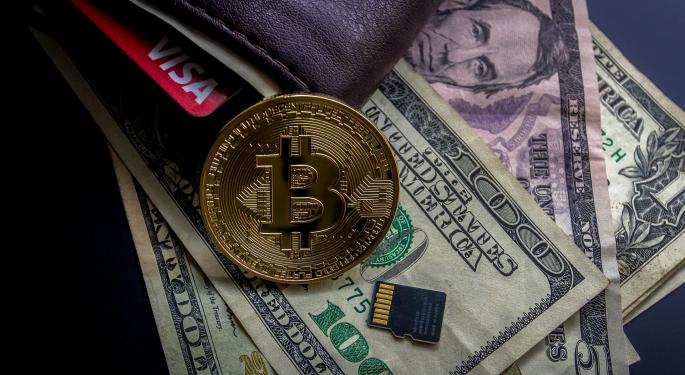 The cryptocurrency market softened further Tuesday after a volatile start to the week, with most major cryptocurrencies trading down more than 3 percent on the day. Here's a look at some of the headlines that were moving the cryptocurrency market today — and which currencies were on the move.
Headlines
Wells Fargo & Co (NYSE: WFC) has joined a growing list of banks banning customers from buying cryptocurrency using their credit cards. In a statement, the company said the decision came in part due to the "multiple risks associated with this volatile investment."
The Financial Action Task Force, an international crime-fighting organization, is in talks to introduce a set of binding rules for cryptocurrency exchanges that would replace the current set of non-binding regulations. Current regulations require exchanges to be registered or licensed and to verify traders' identities.
A new report by the London Block Exchange found that the percentage of women open to cryptocurrency investing has doubled in the past six months, but most female investors remain skeptical. The report found that millennial-age women are slowly opening up to cryptocurrency trading, but only 13 percent would consider investing in cryptos. A study by the Journal of Accounting Research earlier this year found that female stock analysts are significantly more accurate with their stock forecasts than their male counterparts.
Price Action
The Bitcoin Investment Trust (OTC: GBTC) traded at $11.38, down 2.7 percent.
Here's how several top crypto investments fared Tuesday. Prices are as of 3:30 p.m. ET and reflect the previous 24 hours.
Bitcoin declined 3.3 percent to $6,542;
Ethereum declined 4.2 percent to $498;
Ripple declined 3.1 percent to 56 cents;
Bitcoin Cash declined 6 percent to $869;
EOS declined 7 percent to $10.26.
The three cryptocurrencies with at least $1-million market caps that have made the biggest gains over the past 24 hours are:
SmileyCoin: $2.2-million market cap, 87.4-percent gain.
KiloCoin: $6.3-million market cap, 30.8-percent gain.
Espers: $6.1-million market cap, 24.5-percent gain.
The three cryptocurrencies hit hardest in the past 24 hours were:
Primecoin: $28.5-million market cap, 28.6-percent decline.
Photon: $1.1-million market cap, 22.3-percent decline.
BunnyCoin: $1.2-million market cap, 22-percent decline.
Related Links:
Today In Cryptocurrency: Apple Bans Crypto Mining, South Korean Exchange Hacked
SEC Chairman Jay Clayton: Cryptocurrencies Are Not Securities
View Comments and Join the Discussion!
Posted-In: today in cryptocurrencyCryptocurrency News Top Stories After-Hours Center Markets Best of Benzinga