Buy, Sell Or HODL? This Bull Thinks 'Bitcoin Is Just Getting Warmed Up'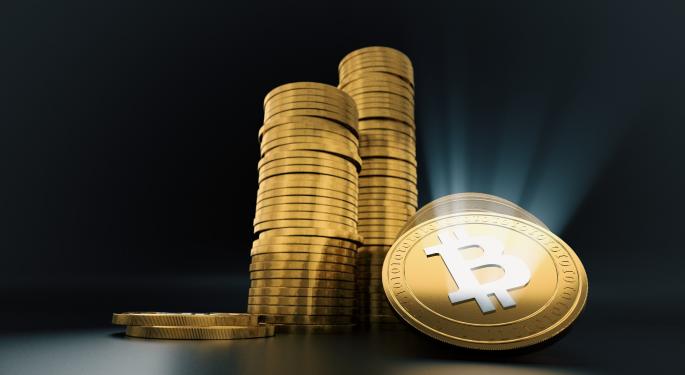 A rough year for bitcoin investors got even worse this week, with the price of the largest global cryptocurrency falling another 14.6 percent to below $6,500, its lowest level since February.
Bitcoin prices are now down 52 percent year-to-date, but Mark Yusko, founder and CEO of Morgan Creek Capital Management, said Wednesday there's still a strong bull case to be made for bitcoin.
Transformative Technology
On Wednesday morning's PreMarket Prep, Yusko said many investors still don't seem to understand that bitcoin is a technology that is bigger than the internet.
"In 2024, I think we're going to have this thing that's going to be labeled 'the internet of value,'" Yusko said. "What the internet did to information and commerce, the internet of value is going to do to all things of value--money, goods, anything that you can monetize...is going to be transferred over IP."
Amazon's Example
Yusko said judging bitcoin's capabilities today is like judging the skills of a nine-year-old child compared to the skills of an adult. He says bitcoin's 50-percent crash in 2018 is nothing new to long-term investors in Amazon.com, Inc. (NASDAQ: AMZN).
"Amazon, over the past 20 years, has had a double-digit crash in every single year of its existence," Yusko said. "It averaged 31 percent to the downside. Yet when was a good time to sell Amazon?"
Even so, he said bitcoin investors need to get comfortable with the cryptocurrency's track record of parabolic moves higher followed by extended digestion periods.
"Bitcoin is just getting warmed up," he continued. "It's a brand new technology, as technologies go. The greatest thing about bitcoin is it decreases the barriers, the borders that we've erected, and it takes the power away from central banks who can devalue the currency."
Related Link: Can Ripple Be Mined?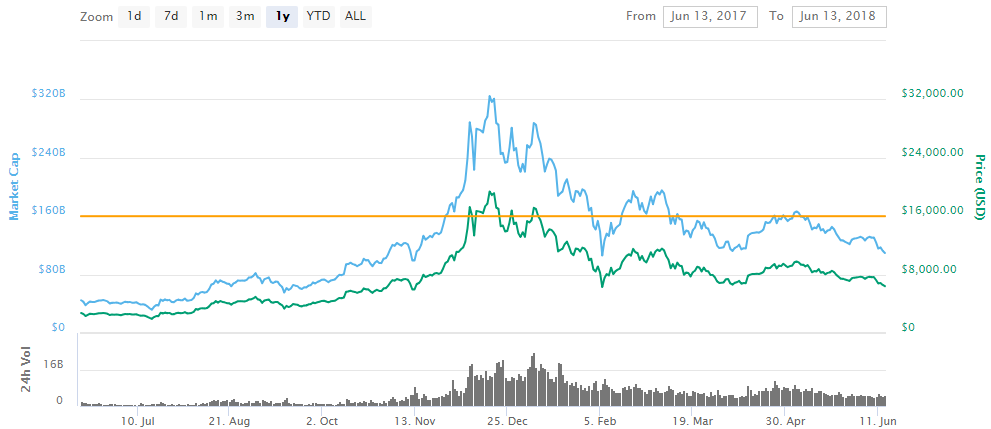 Via CoinMarketCap
Why Bitcoin?
Of all the cryptocurrencies though, what makes bitcoin special?
First, Yusko pointed out that there aren't that many cryptocurrencies.
"There are 1,700 utility tokens; those are not cryptocurrencies. Cryptocurrency is something meant to be a store of value or a medium of exchange."
Yusko said it comes down to two things: the network effect, and the open source technology of bitcoin. Unlike companies like MySpace, which were only successful until better technology came along, bitcoin can copy any new advantages from other cryptocurrencies.
"Why bitcoin? It's the network effect. Why VHS instead of Betamax? Betamax was better technology. Why Facebook instead of MySpace? In an open source world...over time anybody that adds an increasing usefulness in technology, bitcoin can copy paste and bring that over. So, why bitcoin? Because bitcoin won. Going from $0-$10, was the miracle. The fact that it survived at all was the miracle."
"Over the course of time, I think this will be a multi-trillion dollar market," he said.
If Yusko's predictions are correct, the Bitcoin Investment Trust (OTC: GBTC) was providing even more of a buying opportunity for investors on Wednesday, trading down another 4 percent on the day.
You can listen to the full interview with Yusko at 32:13 in the clip below.
Posted-In: Bitcoin Mark Yusko Morgan Creek CapitalAnalyst Color Cryptocurrency Top Stories Markets Interview Best of Benzinga
View Comments and Join the Discussion!