KODAKCoin: How To Buy It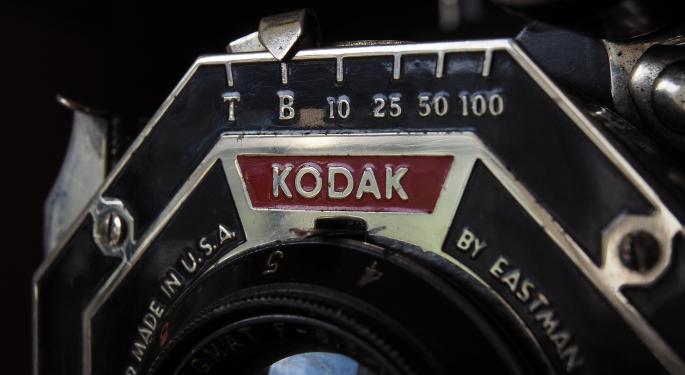 Eastman Kodak Company Common New (NYSE: KODK) recently opted to venture into the cryptocurrency arena by offering a token, KODAKCoin, which powers the KODAKOne platform created using blockchain technology.
The Jan. 9 announcement sent shares of Eastman Kodak soaring 119 percent to $6.80. After rising to a high of $13.28 intraday on Jan 10, the stock has come off this level, but is still trading notably higher than it did prior to the pioneering photographic company's venture into cryptocurrency.
About KODAKCoin
The proprietary KODAKCoin cryptocurrency, according to Eastman Kodak and its technology partner WENN Digital, will make it easier to register, move and sell digital images.
"KODAKCoin allows participating photographers to take part in a new economy for photography, receive payment for licensing their work immediately upon sale and sell their work confidently on a secure blockchain platform," the companies said.
It could also serve as a speculative investment, just as with any other cryptocurrency.
See also: Mama Don't Take My KODAKCoin Away: What Photographers And Crypto Experts Think Of Eastman Kodak's ICO
The ICO
Eastman Kodak announced an initial coin offering for KODAKCoin, intending to raise $20 million, with the sale of the token scheduled from Jan. 31 to Feb. 28. An ICO is route taken by companies to fund their cryptocurrency projects by selling part of crypto tokens in exchange for money.
The ICO was issued under SEC guidelines as a security token under Regulation 506 (c) as an exempt offering.
The ICO was delayed, with the company attributing it to the time required to ascertain that all investors satisfy the qualification requirements of applicable jurisdictions in which offers and sales will be made. The precondition, according to Coindesk, is that the investors have a net worth of more than $1 million or an income of at least $200,000.
The presale before the ICO saw the sale of 8 million KODAKCoins, according to the company. A presale occurs before the ICO begins in earnest, primarily to attract venture capital funding.
"The ICO is moving full-speed ahead," according to Kodak. "We expect to close the presale rounds in short order and move to closing the ICO soon after that."
Where To Buy KODAKCoin
KODAKCoin can be purchased by participating in the ICO when it opens for sale. Token units are typically bought by exchanging with another cryptocurrency.
Any potential investor in the ICO has to go through the accredited investor process, WENN Digital CEO Jan Denecke said in an interview with Finance Magnates.
For those who are not accredited investors, the company has plnned a Reg A+, which is another ICO set for June or July. Anyone could buy tokens in this ICO, although they must comply with some formal conditions and submit some documentation.
The Blockchain subsidiary of Overstock and regulated token exchange tZero announced the KODAKCoin security token will trade on its platform in the first quarter of 2018. The firm said it will provide advisory services on the secondary trading of the virtual coin.
The token is to be stored in a wallet, and Kodak is also speaking with some exchanges other than tZero, Denecke said.
Related Link:
Stripe Jumps Off Bitcoin Bandwagon, Citing Fewer Payment Use Cases
View Comments and Join the Discussion!
Posted-In: CoinDesk Kodak KODAKCoin tZEROCryptocurrency Education Markets General Best of Benzinga