With KODAKCoin, Kodak Launches A Cryptocurrency For Photographers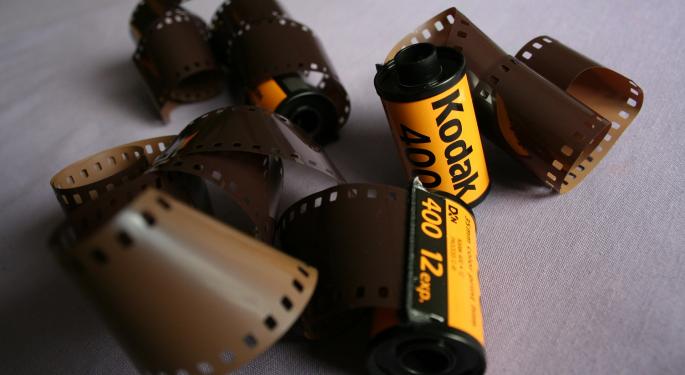 Eastman Kodak Company Common New (NYSE: KODK) popped as much as 87 percent Tuesday after the company announced plans with WENN Digital to launch a photo-centric cryptocurrency.
The initial coin offering for KODAKCoin, along with the KODAKOne image rights management platform, will open Jan. 31 to facilitate photography licensing sales.
"Subject to the highest standards of compliance, KODAKCoin is all about paying photographers fairly and giving them an opportunity to get in on the ground floor of a new economy tailored for them, with secure asset rights management built right in," Jan Denecke, CEO of WENN Digital, said in a press release.
What Will KODAKCoin Do?
The blockchain technology of KODAKOne will provide a digital ledger of rights ownership where photographers can register work to license through KODAKCoin transactions. The platform will protect the IP of registered images, monitor the web to detect unlicensed use, and manage post-licensing compensation.
Kodak insisted the move makes sense for the arts community and is not merely an opportunistic publicity stunt.
"For many in the tech industry, 'blockchain' and 'cryptocurrency' are hot buzzwords, but for photographers who've long struggled to assert control over their work and how it's used, these buzzwords are the keys to solving what felt like an unsolvable problem," Kodak CEO Jeff Clarke said in a press release. "Kodak has always sought to democratize photography and make licensing fair to artists. These technologies give the photography community an innovative and easy way to do just that."
At time of publication, shares were trading up 83.8 percent at $5.70.
Related Links:
9 Struggling Companies That Could Pivot To Blockchain
Mama Don't Take My KODAKCoin Away: What Photographers And Crypto Experts Think Of Eastman Kodak's ICO
View Comments and Join the Discussion!
Posted-In: Jan Denecke Jeff Clarke KODAKCoin KODAKOneCryptocurrency News Top Stories Tech Best of Benzinga