US Gold Corp Finds A Fortune In Wyoming Deposits, Believes Itself Vastly Undervalued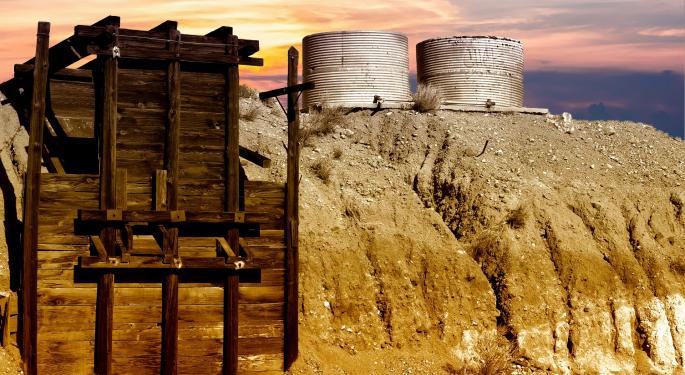 In Wyoming's Copper King, US Gold Corp (NASDAQ: USAU) seemed to have inherited the industry's raggedy hand-me-downs.
"Lots of companies have had this property over the years, there's been lots of exploration done," CEO Edward Karr told Benzinga. "...I think the the general feeling in the industry over the years was that Copper King was a deposit, it was what it was, it's kind of a small, low-grade deposit, and it's not going to get any bigger. A lot of companies have passed it over."
But the advanced-stage mineral development is being newly appraised, and Karr thinks it's largely undervalued.
The four-year-old gold exploration company, through a late-2017 drilling project, discovered a new mineralized zone 200 meters west of the existing known deposit. The study found gold, copper, silver and zinc in "really nice grades from top to bottom, very consistent mineralization," along a nearly 900-foot hole.
"It's really exciting because it shows us the Copper King deposit has upside potential and is going to grow," Karr said.
What It's Worth
Ahead of the discovery, a property report by the Mine Development Associates showed the known deposit of about 1.1 million ounces of gold and 300 million pounds of copper amounting to a net present value of $178.5 million at a 5-percent discount rate. The earlier calculation was based on a gold price of $1,275 an ounce and copper of $2.80 per pound.
"We think the value of our deposit is even understated, it's conservative based upon the current metal prices in the market," Karr said, referencing today's gold and copper prices of $1,350 and $3.25, respectively. "And with this additional discovery, we really believe our net present value could increase well above the $178.5 million range that it is today."
In fact, he expects Copper King is now worth perhaps as much as $250 million, a price that could rocket the company's market cap from $45 million to $75 million. By Karr's calculations, that makes the stock $5 a share against today's $2.73.
"That's pretty nice upside based upon this discovery and what we know we have in the ground today," Karr said.
Be the first to get this news with Benzinga Pro. Sign up for your free two-week trial here.
Coming Up Next
All together, the Copper King discovery could mean big things for the US Gold Corp balance sheet.
"A couple years out, we could certainly start generating revenues and cash flow," Karr said.
The firm could sell the property to a bigger mining company or invest in production, itself. By Karr's estimates, the $113 million capex project is "doable" through project or bank financing.
In the meantime, Carr said he's confident the Copper King deposits will continue to grow through infill drilling and "step-out" drilling farther west toward what surveys suggest is the property's real center.
US Gold Corp is also awaiting assay results for its Nevada exploration property on the Cortez Trend and intends to announce its findings as early as next week.
"We really believe we're on the verge of a major discovery there," Karr said.
Posted-In: Copper King Edward KarrNews Commodities Top Stories Exclusives Markets Interview Best of Benzinga
View Comments and Join the Discussion!