Is Bitcoin The New Gold? Still Too Early To Say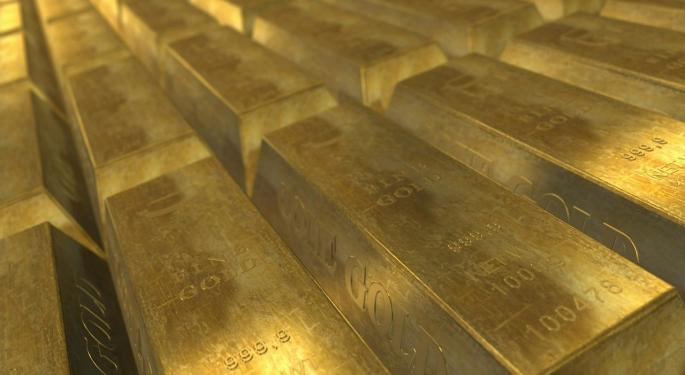 Gold has long been considered one of the most popular "flight to safety" plays in the market. But despite elevated levels of political turmoil regarding President Trump and his administration's alleged ties to Russia, gold has barely outperformed the S&P 500 so far in 2017. At the same time, bitcoin is up 185 percent year-to-date.
Is bitcoin's 2017 outperformance a sign of the changing of the guard when it comes to safety plays?
Difficult To Call it Safe
Bitcoin bulls argue that the cryptocurrency is the ultimate safety play because its supply is tightly controlled and clearly-defined, with a maximum ultimate total supply of only 21 million bitcoins.
However, it's difficult to call bitcoin a "safe" investment at this point in time.
While supply may be set in stone, demand for bitcoin is an extremely difficult part of the value equation to calculate.
"If you have a traditional currency like the Candian dollar, you can look at trade, you can look at interest rates you can look at what shape the economy is in to try to get a guage for if people are going to demand Canadian dollars or not," said Dennis Dick, proprietary trader at Bright Trading LLC and co-host of Benzinga's PreMarket Prep show.
Related Link: Bitcoin, Bitcoin, Bitcoin: Why Some Buy And Some Don't
"How do I sit back and crunch numbers and come up with a fundamental value for bitcoin?"
Bitcoin Bubble
Bitcoin's meteoric rise in the last few years is also a point of concern for "Failed Traders" author Jeff Goldman, who said bitcoin was "getting way, way bubbly" back in May. The value of bitcoin has now increased more than 1,000 percent in less than two years.
At the same time, while gold hasn't quite kept up with bitcoin, it's still doing relatively well this year, suggesting investors are still using it as a political risk hedge. The SPDR Gold Trust (ETF) (NYSE: GLD) is up 10.6 percent so far in 2017, a more than 20 percent annualized gain.
Despite its strict supply controls, there is simply too much demand uncertainty and short-term volatility for bitcoin to be a safer alternative to stocks at this point. At least until speculative bitcoin trading dies down a bit, the yellow metal will remain the gold standard when it comes to investing safe havens.
View Comments and Join the Discussion!
Posted-In: Cryptocurrency Education Commodities Forex Top Stories Markets Trading Ideas General Best of Benzinga