Will Trump's Solar Border Wall Be A Boon For Clean Energy Or More Fat For Taxpayers?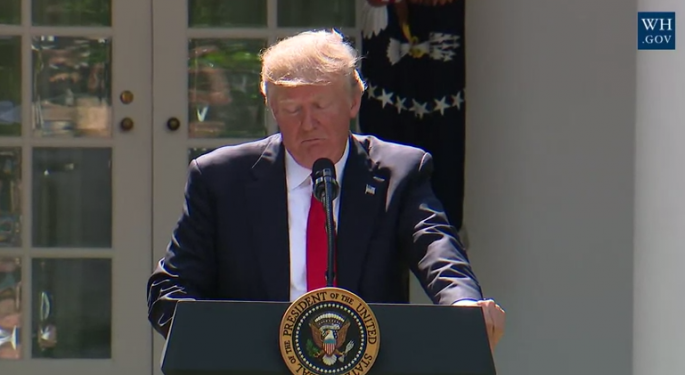 After reports surfaced earlier this month that President Donald Trump is considering covering his proposed border wall with Mexico in solar panels, solar investors finally got to hear the words right from the horse's mouth this week.
On June 21, Trump told supporters in Iowa that a "solar wall" would pay for itself.
"We're talking about the southern border, lots of sun, lots of heat," Trump said. "Pretty good imagination, right? Good? My idea."
Now Who's Paying For The Wall?
In the past, Trump has repeatedly claimed that Mexico would pay for the border wall, but Mexico has denied that will happen. "I've said time and again — Mexico won't pay for any wall," President Enrique Pena Nieto said earlier this year.
Former Mexican President Vicente Fox Quesada was even more blunt in an interview in January. "Mexico is not going to pay for that [expletive] wall," he said.
For now, it appears as if Trump has abandoned his pledge to have Mexico pay for the wall and is looking to the skies for a solution. His solar wall plan is being met with skepticism by experts and politicians on both sides of the aisle.
The Vertical Challenge
"With a total cost to the gov't of -$27.6 billion on nominal profit of $221 million/year, it would take 125 years for taxpayers to recoup the outlay; but given the time value of money, w/ a 10 percent discount rate, annual profit, in real terms, would fall to <$1 million by year 58 & taxpayers would never recoup total construction costs," Axiom analyst Gordon Johnson wrote earlier this month (see Johnson's track record).
"Based on our work, not only does this not work under any scenario, but the gap is strikingly wide; this seems a rather aggressive suggestion."
Related Link: This Week In Solar: Trump Getting Bullish, RMB Appreciation Implications
Other experts argue that a solar wall would be a practical and profitable decision.
Despite Trump's claims of "my idea," the concept of a solar border wall was presented in a Wall Street Journal op-ed piece back in March. Experts from Columbia University and George Washington University concluded that the plan is "not only technically and economically feasible, it might even be more practical than a traditional wall."
LanzaTech process engineer Allan Gao attempted to crunch the numbers on the cost and potential earning power of a solar wall in a post on Quora.
Gao estimates that a 1,000-mile solar wall would cost $44.5 billion to construct, even if the government could secure panels at roughly 50 percent of current market price. Upon completion, Gao estimates the wall could generate roughly $1.9 billion in annual revenue, and it would take roughly 78 years to fully pay for the wall's construction and maintenance.
If Trump does follow through with plans for a solar wall, it could mean big business for a handful of solar companies. Back in 2013, the Department of Defense awarded $7 billion in solar contracts to 22 companies, including Dominion Energy Inc (NYSE: D), NRG Energy Inc (NYSE: NRG) and SunPower Corporation (NASDAQ: SPWR).
________
Image Credit: Screengrab from "Trump Makes Statement On Paris Accord" By The White House [Public domain], via Wikimedia Commons
View Comments and Join the Discussion!
Posted-In: Allan Gao axiom border wallCommodities Politics Topics Markets General Best of Benzinga