Why Republicans May Put The Border Wall Debate On Hold For Now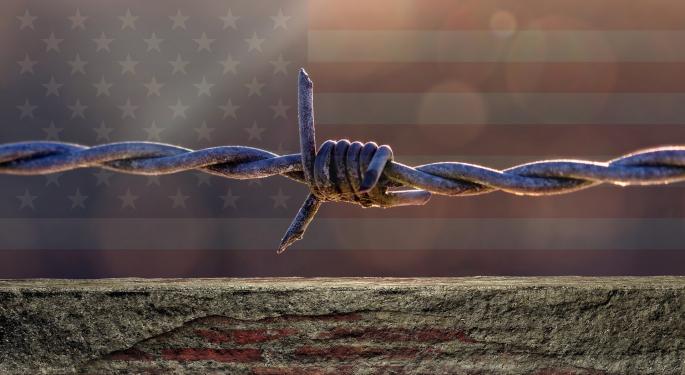 Congressional Republicans may need to have a bit of flexibility when it comes to funding two of their top legislative priorities.
According to Height Securities, Republicans will likely not be able to get enough Democratic votes to defund Planned Parenthood and fund the construction of a border wall with Mexico.
"If Republicans insist on inserting poison pill riders such as defunding Planned Parenthood, building the border wall, or starting a deportation force, they will be shutting down the government and delivering a severe blow to our economy," Senate Minority Leader Chuck Schumer (D-NY) said this week.
Republicans need 60 votes to pass an appropriations bill to keep the government from partially shutting down. In order to get the votes, Republicans will need to appeal to a certain number of both fiscal conservative Republicans and Democrats.
"We believe there is a bloc of at least 40 House Republicans who are unlikely to vote for any [Continuing Resolution]/appropriations bill that does not either cut spending or enact social and environmental policy riders, and GOP leaders know that they need Democratic votes (particularly if the Planned Parenthood fight migrates to the CR once Republicans are forced to drop their one-year defunding provision from the healthcare repeal-and-replace bill)," Height explains.
Related Link: Breaking Down Trump's 'Skinny Budget'
At the end of the day, Height believes Republicans will make the necessary concessions to get an appropriations bill passed before a government shutdown is necessary.
When it comes to the border wall, Height believes Republicans would be able to fund the construction using the existing Department of Homeland Security budget.
Even without the wall, Homeland Security recently reported that illegal Southwest border crossings are down 40 percent since Trump took office.
At the same time, the SPDR S&P 500 ETF Trust (NYSE: SPY) is up 4.6 percent.
Posted-In: Chuck Schumer Height Securities Planned ParenthoodAnalyst Color Politics General Best of Benzinga
View Comments and Join the Discussion!