Global Demand For Coffee Expected To Hit Record Highs: Will Prices At Starbucks Rise?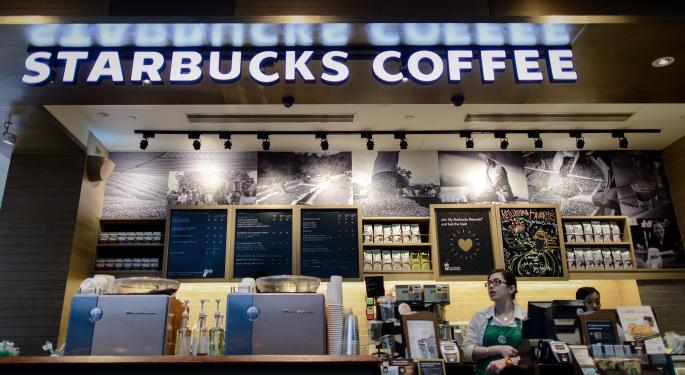 Coffee prices are now pushing $2 a pound.
Starbucks (NASDAQ: SBUX) has more exposure to milk prices than coffee, so that morning latte won't be getting more expensive. However, that doesn't make coffee's 70 percent YTD gains any less impressive.
In fact, considering the fundamentals, this rally could just be getting started. At this point, many agriculture analysts conclude that prices have peaked, but there is still big money potential for those owning coffee. The coffee market will likely finish 2014 with its first supply deficit in three years, and it could stay there through 2017.
Brazil, which produces one third of the world's coffee supply, has been hampered all year by extreme drought. The Brazilian government estimates its coffee crop will decline 10 percent Y/Y in 2014; an extremely optimistic forecast.
The lack of rain in Brazil has been so severe that tree roots have now separated from the soil and won't absorb moisture properly even when rains return. The damage done over the past nine months will likely have supply repercussions at least through 2017.
Related Link: How Starbucks Is Boosting Profits With Redesigned Stores
At the same time, Central America, which produces 10 percent of global supply, is battling a devastating "coffee rust" fungus that has caused more than $1 billion in damages already. These supply issues are occurring while demand surges. According to the US Department of Agriculture, global demand for coffee is expected to hit a record this year.
On top of that, the International Coffee Organization sees consumption in Brazil, Vietnam and Columbia, which produce 60 percent of global supply, growing at double the rate of coffee importers. This development will restrict the available exports and likely be a major boon for prices. Conveniently for those looking to make money, owning coffee is not a crowded trade!
The Daily Sentiment Index shows coffee at a pedestrian 38 (0 = max bearish, 100 = max bullish). Typically, a rally in commodities doesn't stop until sentiment reaches 80 or higher. Speculative CFTC long positions in coffee have been moving higher, but futures are difficult to hold for the long haul. Instead, the iPath DJ-UBS Coffee ETF (NYSE: JO) offers un-leveraged exposure to coffee with minimal fees.
iPath DJ-UBS Coffee ETF (NYSE: JO)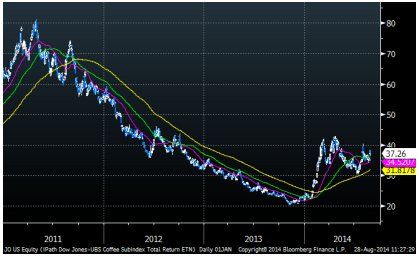 Prior to this year's explosion to the upside, coffee had been stuck in a three year bear market. Under a scenario where growing conditions decline for the next three years, it will take much higher prices before record breaking demand is curbed.
With a long-term perspective over the next several years, it's reasonable to believe that coffee prices could double from here.
Tags: brazil coffee Columbia International Coffee Organization US Department of Agriculture Vietnam
Posted in: Commodities Trading Ideas Best of Benzinga