Alcoa Cannot Wait To Rally...Here's Why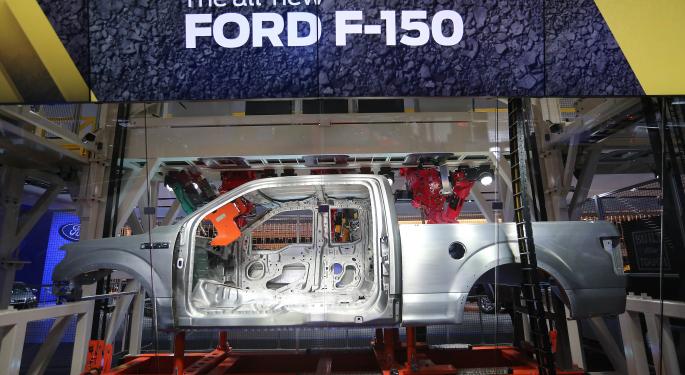 After recovering from a substantial decline in January, the S&P 500 Index has returned to all time high territory. While the index did not exactly exude the most bullish predictions from the January effect, Alcoa (NYSE: AA) shares have.
Alcoa has rallied 11 percent so far in 2013, rallying from its year end of $10.63 to $11.81. Earlier in the year, the issue peaked at $12.31 before pulling back with the broad market. Also, the issue exhibited excellent relative strength during the market's steep decline earlier this month. Alcoa only came within a point of its low for the year ($9.82), when it bottomed on February 10 ($10.83) as the broad market revisited late October lows.
See also: Ford's Alan Mulally Talks Aluminum, His Future & His Favorite Ride
Alcoa shares, which are quite some distance from its all time high from back in July 2007 ($48.77) and are much closer to March 2009 low ($4.97). More importantly, the issue finally broke out of a two year trading range ($7.63-$11.02) in January and successfully tested the former resistance area recently and responded within a sharp rally.
While the technicals are looking favorable for Alcoa, the fundamentals are looking even better. So much, that the issue has been garnering of the attention of Wall Street's most respected firms.
Goldman Sachs has been all over the issue since late November. On November 25, the firm upgraded Alcoa from neutral to Buy and raised its price target from $8.00-$11.00. JP Morgan followed suit on January 21, upgrading the issue from Neutral to Overweight and raised their price target from $9.00-$15.00.
Recently, Goldman Sachs joined JP Morgan and bumped its price target to $15.00 as well. Goldman Sachs analyst Sal Tharani, cited the increased demand for aluminum from the Aerospace and Automotive industry was going to "game changer: for the steel market.
The firm believes the gradual conversion of automotive exposed body to aluminum (Body-in-White or BiW) will be a huge boon to downstream aluminum use, producing a high growth rate versus other metals for the rest of the decade.
As evidenced by Ford Motor (NYSE: F) as it unveiled its aluminum F-150 at the Detroit Auto Show, who set a new standard in the industry that several others manufacturers will surely follow. The new F-150 will weigh 700 pounds less than its predecessor and in turn will have 30 percent better fuel economy due to its lighter body.
On Wednesday, General Motors (NYSE: GM) confirmed this change in trend as it announced it is accelerating efforts to field a largely aluminum-bodied truck pickup truck by 2018. This action was clearly a direct response to Ford and the need to keep up with federal fuel efficiency standards.
As a result, aluminum could very well be the fastest-growing commodity over the next several years. Alcoa expects aluminum auto sheets to grow at a 14 percent CAGR (compounded annual growth rate) from 2012 through 2025. Also, the company expects the market to grow more than 50 percent from 2012 through 2016. By 2025, they expect the average aluminum content per vehicle in North America to increase by 200 pounds to 550 pounds by 2025.
With large commercial aerospace build rates at all time highs and expected to continue, the materials needed produce will increase as well. Also, as the industry shifts toward wide-body aircrafts, more aluminum plate will be needed to accommodate the change in size.
While the aerospace and automotive industry competing for existing aluminum supplies, any other new users of Aluminum will impact the supply and demand and drive prices higher. These factors coupled with continued cost cutting initiatives in its upstreaming businesses by Alcoa puts the company in a good position to capitalize on the changing trend in the metals market.
Posted-In: Aluminum Ford General MotorsTechnicals Commodities Economics Markets Trading Ideas Best of Benzinga
View Comments and Join the Discussion!