Picking Through the Rubble in Coal – And Doing Some Buying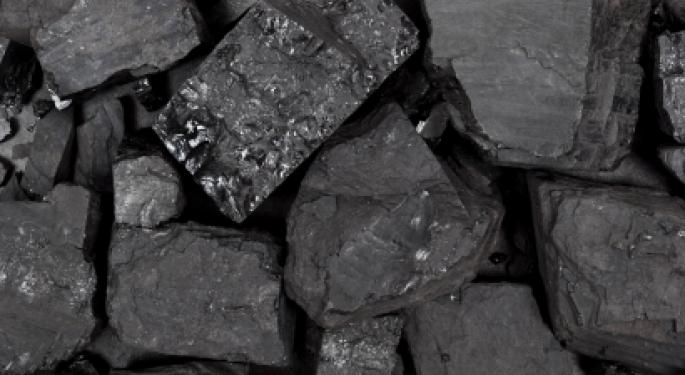 As we wrote in our earlier report, coal stocks as well as the commodity itself are being smashed on Wednesday in response to the re-election of President Obama. As of this writing the Market Vectors Coal ETF (KOL) is currently trading off -5.3% on the session. However, many of the coal names are faring much worse as Arch Coal (ACI) is off -12.7%, Alpha Natural Resources (ANR) is down -11.1%, Peabody Energy (BTU) is falling -8.8%, and CONSOL Energy is losing -6.1%.
At issue is the fact that the President and the Democrats have made their feelings clear about coal and show no signs of giving up on their anti-coal stance in the near-term.
However, while coal bashing is in vogue in Washington, investors with a long-term time horizon should recognize that coal has actually been the fastest grow¬ing fossil fuel in the world lately and that global demand is on the rise. As such, it might be a good time to go picking through the rubble of the coal stocks.
Recall that according to a recent BP study, emerging markets (EEM) are now the biggest users of coal and represent roughly 70% of global consumption. Also recognize that China (FXI) represents nearly half (49%) of the total coal demand globally and that India (EPI) has doubled its percentage of global consumption over the last decade (India now uses nearly 8% of the world's supply of coal).
Thus, from a long-term perspective, the likely continuation of emerging market demand for coal is a primary reason not to give up on the coal stocks as investments. Thus, this just might be a good time to start nibbling for one's long-term portfolio.
As stock pickers, if we were going to be purchasing a pure coal play or two, we'd likely go with Peabody (BTU) or CONSOL (CNX). Our fundamental rankings show BTU as a "buy" right now with a rank of 51.79. However, we prefer CNX from a chart standpoint.
However, our favorite pick in the industry group is a name you may not be familiar with – Cloud Peak Energy (CLD). The stock is the highest rated in the industry group from a fundamental ranking standpoint, has the highest technical ranking of the bunch, and remains in an uptrend on both a daily and weekly basis – yes, even after today's shellacking. Thus, for those that like to buy a highly rated stock that on a pullback – now looks like it might be the time.
If we had to pick just one name that is levered to coal, we'd go with CLD. However, if we had some latitude with our selection, we'd likely start scaling into CLD, BTU, and CNX. And then we might start buying some KOL as well. And to be clear, we wouldn't be "bombing in" here. No, we'd be initiating "starter positions" at perhaps 25% to 33% of the ultimate positions. After all these are long-term plays.
Wishing you green screens,
Dave M.
David Moenning
Chief Investment Strategist: StateoftheMarkets.com
David Moenning is the founder and chief investment strategist for StateoftheMarkets.com, a website dedicated to investor education and portfolio analysis. Mr. Moenning is also President of Heritage Capital Management, a privately owned, investment management firm. Founded in 1989, Heritage is focuses on risk management and an "own the best and ignore the rest" equity selection strategy.
For up to the minute updates on the market's driving forces, Follow Dave on Twitter: @statedave (Twitter is the new Ticker Tape)
The preceding article is from one of our external contributors. It does not represent the opinion of Benzinga and has not been edited.
Posted in: Commodities Markets Trading Ideas