Green Organic Dutchman Posts Revenue of $3.06M, Expands Product Portfolio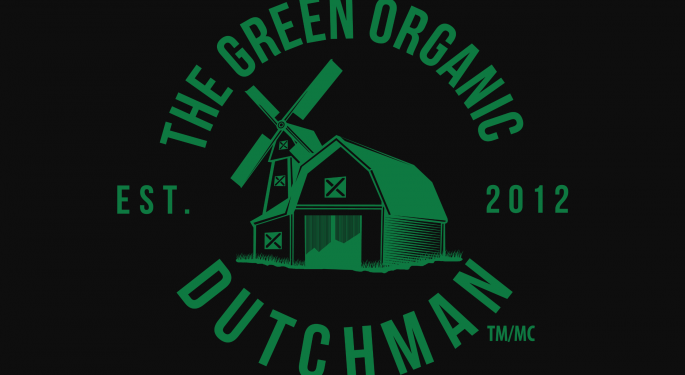 Cannabinoid-focused research and development company The Green Organic Dutchman Holdings Ltd. (TSX: TGOD) (OTCQX: TGODF) has posted a financial update for the first quarter of 2020.
The Toronto based-company demonstrated considerable action following the first quarter, under its strategic plan to reach near term profitability while optimizing its expenses.
Here's a breakdown of what the earnings report for the first quarter revealed:
Quarterly revenue of $3.06 million, up by 27% compared to the first quarter of 2019
An operating loss of $15.3 million and a net loss of $73.4 million, versus an operating loss of $17.7 million and a net loss of $144.8 in the same period of last year
27% year-over-year reduction in administrative expenses
That's a decrease of $3.7 million
Reducing the book value of its assets by $55.8 million due to economic uncertainties related to coronavirus outbreak
Some of the quarterly milestones include securing of the Health Canada's approvals for its operations.
In February, the company has secured a research license, only to obtain a license amendment a month later.
The permits allowed TGOD to reduce production costs and reliance on third parties and support its building operations at its Ancaster facility for cannabis processing.
In late March, the company said it would postpone the startup of its Valleyfield Facility — in response to the current economic circumstances — shifting the focus to Ancaster facility.
"With safety as our top priority, we have quickly adapted our processes, allowing our operations to continue running smoothly and uninterrupted to ensure that we meet the needs of our patients and consumers," said the company's CEO Brian Athaide.
In April, the company secured up to $30 million in financing via revolving credit facility in an agreement with a commercial lender.
A month later, TGOD obtained a license from Health Canada for Valleyfield Facility's main hybrid greenhouse.
Last week the company launched its branded Unite Organic vape cartridge for medical patients, making its first recreational delivery to the OCS on Monday.
The same day, it introduced teas under the TGOD Organics brand.
View Comments and Join the Discussion!
Posted-In: cannabis industry cannabis sales The Green Organic DutchmanCannabis Earnings News Markets