Thinking About Launching A Cannabis Consumer Product? Here's What You Should Know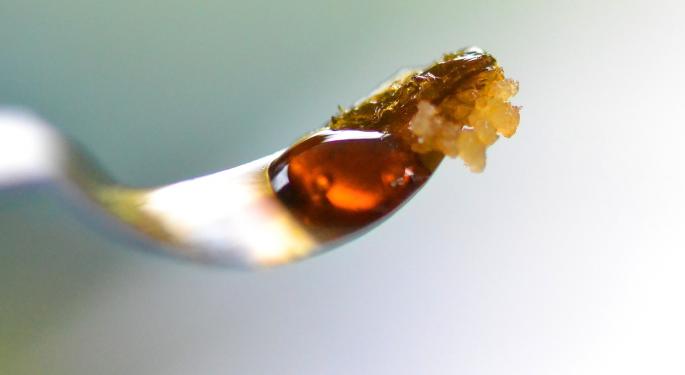 The cannabis industry is attracting entrepreneurs aiming to capture a slice of the market, which BDS Analytics and ArcView Market Research estimate could reach $11 billion this year and grow to $23 billion by 2022.
In a short span, the industry has evolved beyond the traditional flower and into more complex branded consumer products. A new paper by BDS Analytics discusses the branded products segments within the cannabis industry and highlights the advantages — as well as the risks — that a new brand faces.
Cannabis Product Segments
The three primary cannabis segments — concentrates, edibles and topicals — are divided into more categories.
Concentrates include vape pens; oil-filled cartridges; wax, a pliable form of cannabis concentrate; live resin, which involves storing and extracting frozen cannabis to retain all terpenes and other compounds; and shatter, which is similar to wax but is more rigid, with a structure similar to a shard of glass.
Edibles include candy, chocolate, tinctures and pills, as well as beverages and infused foods. The topicals segment includes balms, salves, patches, sprays and massage oil.
Given that the cannabis industry is highly regulated, entering the space is not easy, BDS Analytics co-founder and CEO Roy Bingham told Benzinga.
"If you are a branding expert, there are openings across every category — flower, pre-rolls, concentrates, vape and edibles — to successfully identify a consumer need and develop a product that fits."
The Benzinga Cannabis Capital Conference is the premier gathering of cannabis entrepreneurs and investors in North America. Click here to learn more about the event, which takes place Jan. 15-16 in Miami, Florida.
Concentrates: The Largest Cannabis Offshoot
Other than flower, which continues to dominate, concentrates represent the largest market. In terms of growth, concentrates surpass even flower.
BDS Analytics estimates that concentrate sales in four states — Colorado, Oregon, California and Arizona — total $1.26 billion. Vape products account for the bulk of this market, at $861 million; followed by shatter, at $104 million; live resin, at $94 million; and wax, at $91 million.
Even though concentrates attract many cannabis consumers, challenges remain for those looking to enter the category. Small-scale manufacturers of vape oils, shatter, wax or resin must ensure that the quality of their products is excellent, as quality is the only way to attract connoisseurs. Boutique competitors always run the risk that companies with more money will be able to produce a similar or even better-quality product at a larger scale and lower cost.
For large-scale producers, cost is the main factor impacting their success, due to a lower-margin, higher-volume model.
Edibles: More Diverse Market, Tougher Competition
The edibles segment is complex, with a range of products that includes everything from gummies, to pills, to cannabis-infused brownies, crackers and kombucha.
In the four states included in BDS Analytics' analysis, edible sales total about $611.93 million, with candy representing 44 percent of the market. The other two leading categories are tinctures and chocolates, with 17- and 15-percent market share, respectively.
Competitors in the edible space one must not only pay attention to similar cannabis businesses, but also for big consumer product manufacturers. In Canada, beverage makers like Molson Coors Brewing Co (NYSE: TAP) and Constellation Brands, Inc. (NYSE: STZ) have teamed with large cannabis producers to develop product lines. A similar trend could be on the horizon in the U.S.
" ... The growth of infused edibles or ingestibles is attractive to major companies. They have all watched food and beverage categories take off with functional benefits and functional ingredients being added," said Jessica Lukas, BDS Analytics' vice president of consumer insights.
"Thinking about cannabinoids — not just THC, but CBD, CBG, CBN and others — as a functional ingredient changes the landscape."
Topicals: Fewer Consumers, Large R&D Spending
Cannabis wellness health products are a booming segment, although a much narrower one.
BDS estimates the value of the American topicals market at $65.13 million, with balms and salves accounting for $30 million.
The majority of topical buyers products cite health and medical reasons for their purchase. Since many topicals products target a specific health need, developing the products might require more R&D spending.
Adding THC or CBD to a regular massage oil or lotion might result in a good product, but another company with a better team of scientists and larger R&D budget can swoop in and develop a better one.
Topicals are typically sold at dispensaries where flower dominates the center display cases, meaning they're competing for attention. In addition, consumers need to be educated about the qualities and benefits of one's brand of topical products; and a good approach is to look for underserved customers, according to BDS.
Related Links:
Canadian Craft Beer Co. Steam Whistle Looking For Cannabis Partnership
The Latest In Cannabis-Infused Beverages: Marijuana Gin, Champagne And Rosé
View Comments and Join the Discussion!
Posted-In: BDS AnalyticsCannabis Education Entrepreneurship Top Stories Markets Interview General Best of Benzinga