MedMen CEO Talks 'Blockbuster' PharmaCann Deal With Cramer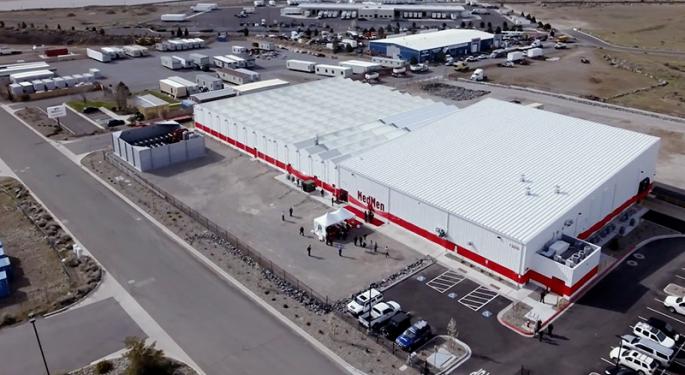 Medmen Enterprises Inc (OTC: MMNFF) is a grower and retailer of marijuana that operates in California, Nevada and New York. On Tuesday Medmen CEO Adam Bierman was a guest on CNBC's "Mad Money" to discuss the company's "blockbuster" $682 million acquisition of PharmaCann.
What Happened
MedMen wants to be known as the "Apple Inc. (NASDAQ: AAPL) store of weed" — and it does more sales per square foot than an Apple store, said "Mad Money" host Jim Cramer.
MedMen CEO Adam Bierman told Cramer that retail is a core component of the company's strategy due to zoning law restrictions and a finite number of licenses.
"I think retail is the permanent moat opportunity for this industry and that's where we'll continue to be focused," he said.
MedMen's acquisition of PharmaCann is consistent with a focus on its retail footprint. Once the deal is complete, MedMen will oversee 66 licensed retail stores and 13 factories in 12 states.
The acquisition also allows the company to "leapfrog that next stage of our growth," and management can now focus its effort on execution, Bierman said.
Why It's Important
MedMen is a brand associated with high-end cannabis products and flashy retail locations, including New York City's Fifth Avenue. The company wants to create an "asset class in cannabis" that is attractive to not only retail investors, but "all the way up to big institutions," Bierman said.
What's Next
Looking forward to 2030, analysts at Cowen Group estimate that MedMen's total addressable market in 12 states will stand at $40 billion, according to CNBC.
In order to grow and satisfy the future market opportunity, Bierman said MedMed is focused on four categories:
Team and infrastructure.
Assets.
Balance sheet.
Investability.
"As long as we are focused on those four things, two years, five years [and] 10 years down the road, we know we will be in the spot we need to be in," the CEO said.
Related Links:
Prohibition Partners Projects $12B Latin American Cannabis Market By 2028
Canopy Growth Buys A Colorado-Based Hemp Research Company
Photo courtesy of MedMen.
Posted-In: Adam Bierman CNBC Jim Cramer Mad Money PharmaCannCannabis Markets Media Best of Benzinga
View Comments and Join the Discussion!