5 Execs Talk Business Models At Cannabis Capital Conference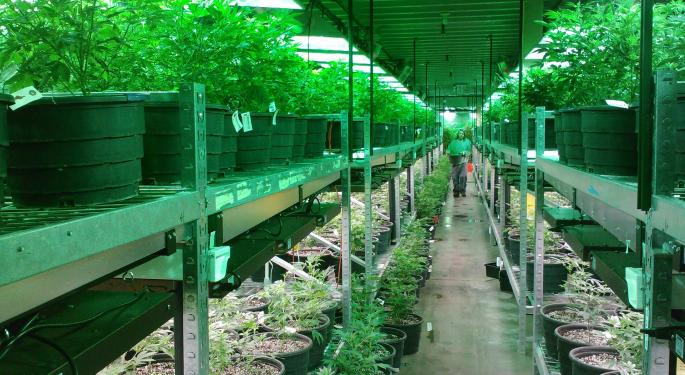 Five cannabis industry executives laid out their business models and viewpoints Friday at the Benzinga Cannabis Capital Conference in Toronto. Here's what MedMen, Acreage Holdings, 4Front, MediPharm and Cordova Cann had to say.
MedMen: Staking Out Territory
Zoning laws and regulations are some of the biggest challenges for cannabis dispensaries, Vahan Ajamian, MedMen's (OTC: MMNFF) managing director of analyst relations, said during the conference. As a first mover, MedMen "put a box" in certain geographic regions, he said.
For example, MedMen is the only dispensary in Beverly Hills and on Fifth Avenue in New York City, Ajamian said. The company is focused on other lucrative regions, including near Fenway Park in Boston, with the ultimate objective of operating 45 retail stores with five cultivation and production facilities by 2020.
Acreage Holdings: 'Depth Of Team'
Acreage Holdings is the largest operator by breadth in the United States, said company President George Allen.
Cannabis as a business is a story of "fear, uncertainty and doubt," he said, but added that this creates a tremendous opportunity for investors, as an estimated 94 percent of people believe medical cannabis is appropriate.
The government functions at the will of the people, which sets the stage for the industry to grow, Allen said.
Encouragingly, Acreage Holdings has "already assembled the strongest team we can," he said, including ex-Speaker of the House John Boehner.
"You can teach cannabis to people who know six sigma but you can't teach six sigma to people who know cannabis," he said. "And that's how we hire."
4Front: Excellence In Leadership
4Front is operational in two states, one of which is Illinois — a state that is overlooked but will be talked about shortly, 4Front CFO Andrew Thut said during the Cannabis Capital Conference.
Many companies tout similar untapped markets, but what also sets 4Front apart is the strength of the management team, Thut said.
CEO Josh Rosen comes from Credit Suisse; Thut previously worked at BlackRock and President Kris Krane is a "nationally recognized authority," Thut said.
The "nuts and bolts" of the cannabis brand require an expert in the field, and to address this need, 4Front hired CMO Richard Degnan, a former SVP and creative director at Williams-Sonoma.
MediPharm: 'Laser-Focused'
MediPharm is a leader in extraction and purification, which makes it "laser-focused," unlike rival seed-to-sale companies that are focused too much on multiple business lines, said MediPharm Labs CEO Pat McCutcheon.
A team is only as good as its people, the CEO said. McCutcheon comes from Johnson & Johnson (NYSE: JNJ), where he was focused on oncology, rheumatology and pain. This gives the company a clear advantage over peers, McCutcheon said, as many of its products will have an easier path toward being tested in the network he built in his prior job.
Cordova Cann: Seek Out Those Who Survived 'The Worst'
Cordova Cann (OTC: LVRLF) wants to leverage its position in the western U.S. to build a sufficient financial position to expand internationally, said CEO Taz Turner. The company takes a partnership approach with operators instead of taking over companies, the CEO said.
"We want to identify operators that know what they are doing [and] have been through the worst," he said. "They know the market better than we do and we want to provide them additional resources to execute."
Related Links:
Prolific Deal-Maker Aurora Cannabis Sees More Acquisitions: 'There's A Lot Of Opportunities Out There'
The CEO Of A Canadian Medical Cannabis Producer Talks Trump, Ontario And Securing A Supply Chain
View Comments and Join the Discussion!
Posted-In: 4Front Acreage Holdings Cannabis Capital ConferenceCannabis News Events Top Stories Markets Best of Benzinga