Buy Michigan Stocks, Not Detroit Bonds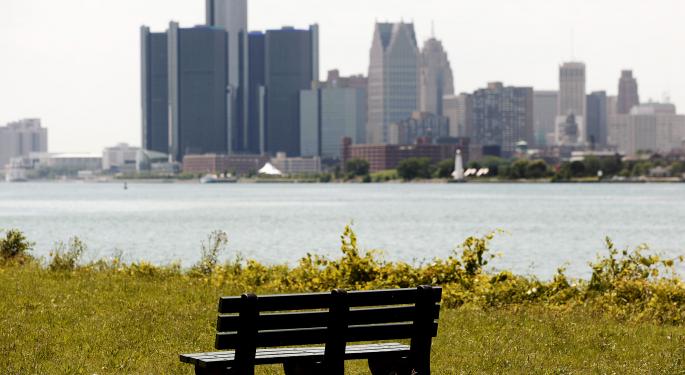 Michigan is a great state with many rightfully proud citizens.
But with its once-mighty city of Detroit in terrible financial shape, state loyalty might prompt some to help the Motor City by purchasing its debt. Loyalty has no place in investing, however, and those seeking to wear the colors would be better served by purchasing shares of dividend-paying companies based in Michigan -- such as Kellogg (NYSE: K), Dow Chemical (NYSE: DOW), and DTE Energy (NYSE: DTE).
A compelling reason to buy Detroit debt now would be the high yields, with its school bonds currently having a coupon of six percent with a maturity date of May 1, 2020. But the total return from these publicly-traded companies easily tops that, and should continue to do so for the future.
Kellogg, the packaged food giant known mostly for its cereals,has been trading nearly 20 percent higher over the last year of market action. Over that same period Dow Chemical, the maker of chemicals and plastics, has risen almost 35 percent. DTE Energy, which provides electricity to more than two million customers in Detroit and other areas in Michigan, is up almost 20 percent for 2013.
Adding to the total return is the solid dividends of these stocks, which should never be overlooked.
Kellogg pays a dividend of 2.95 percent. That is about 50 percent higher than the average of around 1.9 percent for a member of the Standard & Poor's 500 Index. For Dow Chemical, the yield is 3.29 percent. The dividend yield for DTE Energy is 3.77 percent. Moreover, each of these companies has a history or raising its dividend to reward shareholders: do not expect that scenario to happen with Detroit City bonds.
Even if the tax-free aspects of a Detroit bond are compelling, they can easily be matched by buying equities for an individual retirement account or another such vehicle. The tax-free status of an individual retirement is ideal for a stock that has a strong dividend with a rising yield. For traders, the shares of DTE Energy, Kellogg Company, and Dow Chemical can be bought and sold with the capital gains not being taxed, either.
Anything a bond can do, a stock can do better. That is especially so for those with solid dividend frameworks. The rising dividend yield should easily top the interest payments for a bond.
Leave Detroit bonds for the hedge funds. Kellogg, DTE Energy and Dow Chemical are far better buys for the individual investor, Michigan resident or otherwise, who is seeking a growing total return over the long term.
View Comments and Join the Discussion!
Posted-In: Long Ideas Bonds Dividends Hedge Funds Politics Economics Markets Personal Finance Best of Benzinga