Market Wrap for October 31: Fed Worries Pull Stocks Lower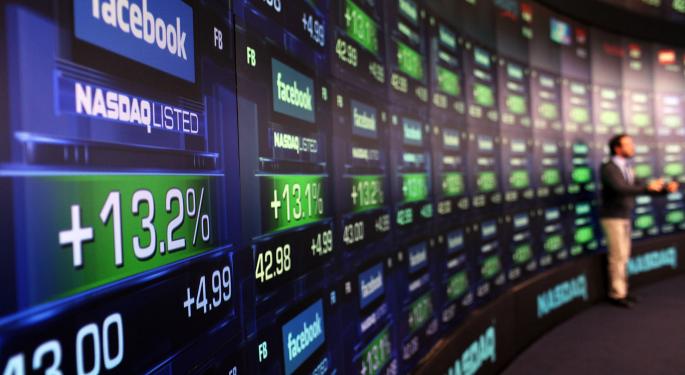 Stocks fell back for a second day in a row on Thursday as the big question -- when will the Federal Reserve trim its bond buying -- weighed on investor minds.
There wasn't an answer to the question -- just as the Fed's statement on Wednesday offered no real hints that a change in policy is coming anytime soon. Thursday's speculation was perhaps in the first quarter of 2014. And that came about because of a huge jump in the Chicago Purchasing Managers Index in October.
Top Headline
The worry kept stocks in check for the entire day. The Dow Jones industrials ended the day down 73 points, or 0.5 percent, to 15,546. The Standard & Poor's 500 Index dropped 7 points, or 0.4 percent, to 1,757. The Nasdaq Composite Index slid 11 points, or 0.3 percent, to 3,920.
The speculation also boosted interest rates, with the 10-year Treasury yield hitting 2.542 percent, up from 2.527 percent on Wednesday. The dollar moved higher, and commodities dropped. Crude oil in New York settled at $96.38 a barrel, the lowest close since June 28.
A Decent October
With the selling, October ended as a decent month for stocks. The Dow was up 2.8 percent, with the S&P 500 up 4.5 percent and the Nasdaq up 3.9 percent. For the year, the Dow is up 18.6 percent. The S&P 500 has risen 23.2 percent, and the Nasdaq is up 29.8 percent.
The two most worrisome months for stocks -- September and October -- were winners for investors, despite a threat and reality of a government shutdown and the potential for a debt default, not to mention worries about Syria.
What's not exactly clear is the condition of the domestic economy. Housing activity appeared to slow more than normal, but the big November increase for the Chicago Purchasing Managers Index suggested there is more strength in the United States than many believe. November and December are traditionally strong months. November marks the first month of the best six months for stocks.
Equities Trading UP
Expedia (NASDAQ: EXPE) shares shot up about 19.2 percent to $59.56 after the company reported upbeat quarterly profit. Bank of America upgraded the stock Neutral to Buy and lifted the target price from $60 to $75.
Shares of Alcatel-Lucent (NYSE: ALU) got a boost, shooting up 16.1 percent to $3.83 after the networking company posted a narrower loss in the third quarter.
Alpha Natural Resources (NYSE: ANR) was also up, gaining 3.9 percent to $7 after the company reported a narrower-than-expected Q3 loss.
Facebook (NASDAQ: FB) finished the day up 2.44 percent to $50.21. Investors today shrugged off the worry that the company had lost its cachet with young teen users. That was a big concern during Wednesday's conference call. The stock had soared after earnings were released, then tumbled after the company conceded it was trying to understand why young teen users seemed to be migrating to, say, Twitter. Nonetheless, October was a disappointing month for the stock. It fell 0.5% for October after jumping nearly 102 percent during the third quarter.
Equities Trading DOWN
Shares of Avon Products (NYSE: AVP) were down 21.9 percent to $17.50 after the company reported weaker-than-expected Q3 results. Avon also warned that a potential fine resulting from a federal bribery probe could materially hurt earnings.
NII Holdings (NASDAQ: NIHD) shares tumbled 18.75 percent to $3.90 after the company reported a loss for the third quarter and said possible fines related to foreign bribery probes may materially hurt earnings.
MGM Resorts International (NYSE: MGM) dropped more than 7 percent to $18.86 after the casino operator reported a third-quarter loss of $31.9 million, or $0.07 per share.
MasterCard (NYSE: MA) reported a 14 percent rise in its third quarter net profit and a 16 percent revenue gain.. The credit-card processor said it earned $879 million, or $7.27 a share, up from $772 million, or $6.17 a share, a year ago. Analysts had expected $6.94 a share. Shares fell 1.2 percent to $717.10.
Commodities
In commodity news, crude oil traded down 0.50 percent to $96.77 an ounce in New York. Gold settled down 1.9 percent to $1,323.70 an ounce.
Silver traded down 4.9 percent to $21.87 an ounce. Copper dropped 0.75 percent to $3.30.
Eurozone
European shares were mostly higher today. The Spanish Ibex Index rose 1.32 percent, while Italy's FTSE MIB Index gained 0.96 percent. Germany's DAX Index rose 0.26 percent. The French CAC 40 climbed 0.6 percent, but Britain's FTSE-100 Index fell 0.7 percent.
Economics
US jobless claims declined by 10,000 to 340,000 in the week ended October 26. Economists had projected claims to drop to 337,000. Claims are down 7.4 percent from a year ago.
The Chicago PMI rose to 65.90 in October, from a prior reading of 55.70. Economists had expected a reading of 55.00.
The Bloomberg Consumer Comfort Index dropped to minus 37.6 in the week ending October 27, versus a prior reading of minus 36.1.
Natural gas supplies climbed 38 billion cubic feet for the week ending October 25, the US Energy Information Administration reported. However, analysts were projecting a rise of 33 billion cubic feet to 37 billion cubic feet. Natural gas futures fell 0.7 percent to $3.62 per 1,000 British thermal units.
Farm prices rose 0.5 percent in October from January, the Agriculture Department said Thursday. Crop prices were off 1.5 percent, but livestock prices were unchanged. The USDA's All Farm Products Index was off 11 percent from a year ago.
In a year where returns to investors have been mostly generous, October brought smiles. The monthly gains for the Dow and S&P 500 were their third best of the year. The Nasdaq's October gain was its fourth-best of the year.
Twenty-two of the 30 Dow stocks were higher on the month, led by Boeing (NYSE: BA), up 11.1 percent; General Electric (NYSE: GE), up 9.4 percent; and American Express (NYSE: AXP), up 8.3 percent. The laggards were Merck (NYSE: MRK) and UnitedHealth Group (NYSE: UNH), down 5.3 percent and 4.7 percent, respectively.
Meanwhile, 397 S&P 500 stocks saw gains, led by Cliffs Natural Resources (CLF), up 25.3 percent; and First Solar (FSLR), up 25.1%.
And 67 stocks in the Nasdaq-100 Index moved higher. The index was up 4.96 percent for the month.
Google (NASDAQ: GOOG) was the Nasdaq-100 leader, up 17.7 percent to $1,0030.58. The shares are up 45.9 percent for the year, and the company's market capitalization ended the month at $344.38 billion. That makes Google the third most valuable company after Apple (NASDAQ: AAPL) and Exxon Mobil (NYSE: XOM). Fourth is Microsoft (NASDAQ: MSFT), followed by Berkshire Hathaway (NYSE: BRK.A).
Bulls believe November will be a strong month for stocks. Since 1950, November has been the third-best month of the year for the Dow and S&P 500 and fourth-best for the Nasdaq, the Stock Traders Almanac says. What investors must decide is whether the market's big performance so far in 2013 still has room to run.
Posted-In: Earnings News Bonds Futures Commodities Economics Federal Reserve After-Hours Center Best of Benzinga
View Comments and Join the Discussion!